Regardless of your industry, if you want to have high rankings on Google, you will need to scale up your content creation process. This will need to be done down the line to meet your own demands or to stand out from competitors.
Boosting your content production process can be vital in creating brand awareness. Companies that invest time and resources into producing top-quality content in large quantities can drastically improve their website traffic and online visibility.
However, many marketers need to sacrifice quality to scale up content creation. This problem arises when marketers shift their focus to content quantity to try and keep up with the increased workload, letting the quality of their work slip.
Scaling up content production while retaining quality is challenging but possible.
It all starts with good planning.
This lesson covers the definition, importance, and benefits of scalable production and, most importantly, how to scale content production without sacrificing quality.
What is Scalable Content Production?
Scaling your content production is much more than just increasing the volume of posts. It is about improving your service to your ideal customer by offering substantial material to educate, assist, and guide them throughout their buying process.
Therefore, simply delivering a higher volume of posts to increase the amount of content on your blog is not a good idea.
As W. Edwards Deming said, "Quality is the pride of workmanship.", producing high-quality content is crucial because search engines only aim to deliver relevant results to users.
Apart from this, content has become oversaturated, and modern users are now more aware and demanding about what they consume.
It's important to remember that infographics, blog posts, ebooks, videos, and interactive materials are all part of any great marketing strategy.
This means that you must include each piece of your content in the strategy you have planned to help your website grow at a consistent rate.
Why Should You Scale Your Website's Content Creation?
In order to ensure that your marketing strategy is a success, you need to have a carefully constructed plan in place as well as the time to deliver a high volume of content.
Although it can be challenging to maintain a balance between the quality and quantity of your content, there are several reasons why you should consider scaling your content creation.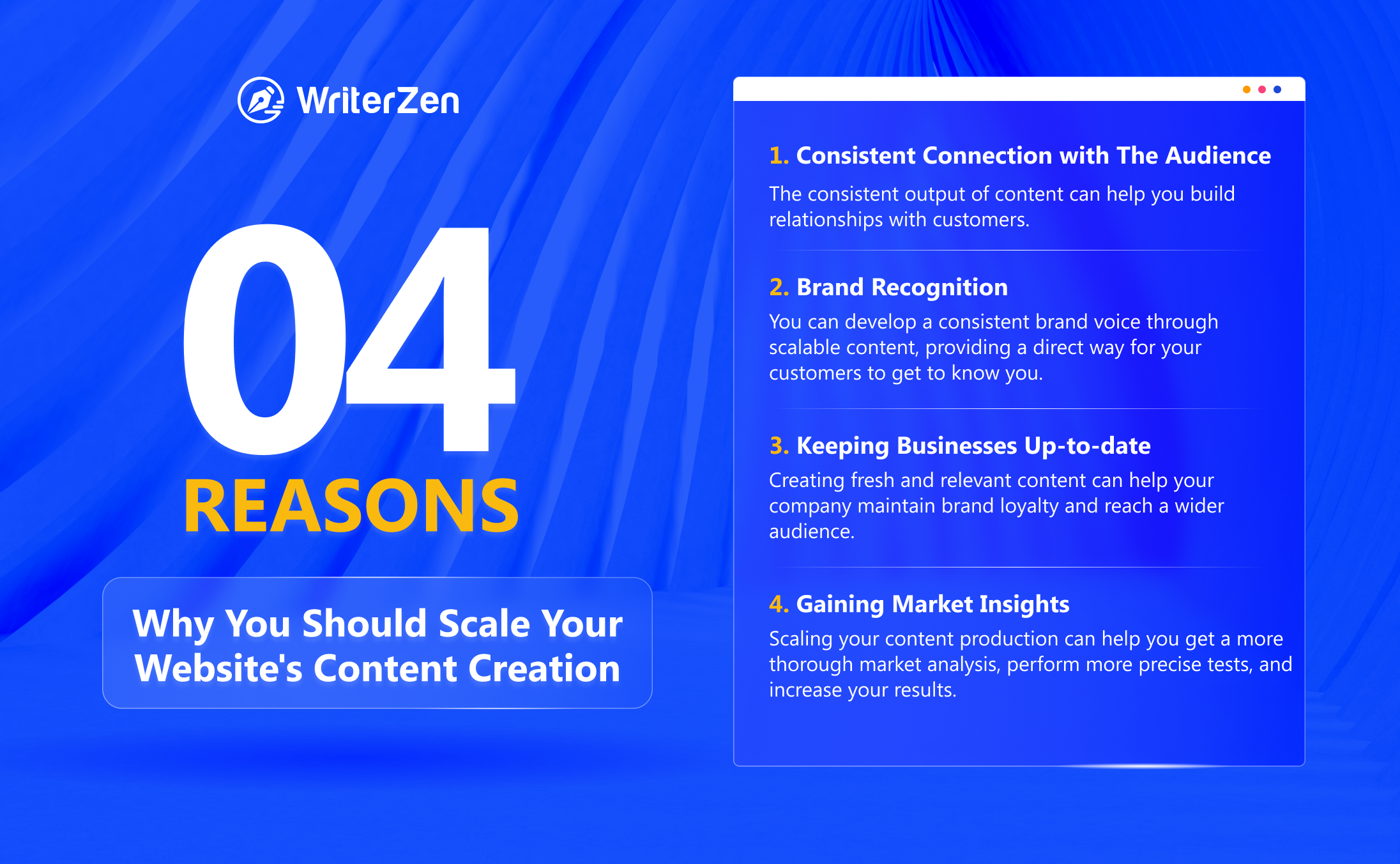 Consistent Connection with The Audience
Customers have their favorite brands and websites that they believe are reliable and will regularly support and recommend to their family and friends.
If you are a new online business, you want to become the brand of their choice. But to do this, you will need first to gain their trust.
Trust is built through consistency.
So the consistent output of content plays a vital role in building relationships with customers. Customers want to connect with your brand, not be sold to.
Brand Recognition
Scaling content production can build, reaffirm, or rebrand the image of your business. It is one of the easiest ways to control the story you tell others about your brand.
A strong brand voice also indicates knowing who your customers are or who your product or service is targeted at. You will develop a consistent brand voice through scalable content, providing a direct way for your customers to get to know you.
Remember that there is so much content out there, so for your content to stand out, it needs to be high quality, relevant, and tailored to your specific audience.
Keeping Businesses Up-to-date
Creating and sharing trending content is important to maintaining brand loyalty.
By using trendy topics and hashtags, companies stay relevant and reach a wider audience. The content your company shares is always read within a specific context, whether it is a social issue or a cultural shift.
Customers follow causes and brands that will improve their lives in the future and make the world a better place for generations to come.
That is why it is crucial for businesses to create fresh and relevant content that shows that they care. However, it needs to be aligned with the business's values.
Marketers plan and scale content beforehand based on a few core messages from your brand. They incorporate trends only if they are in sync with their business.
Gaining Market Insights
Every single piece of content you post provides an opportunity to understand your audience better so that you can deliver content that meets their needs.
By scaling your content production, you will be able to get a more thorough market analysis, perform more precise tests, and increase your results.
You can further enhance these benefits by incorporating more interactive content, such as quizzes and questionnaires, that prompt your customers to perform more interactions.
How to Scale Content Production without Sacrificing Quality
Are you ready to ramp up your content marketing strategy? We outline ten steps below to help you successfully scale your content production.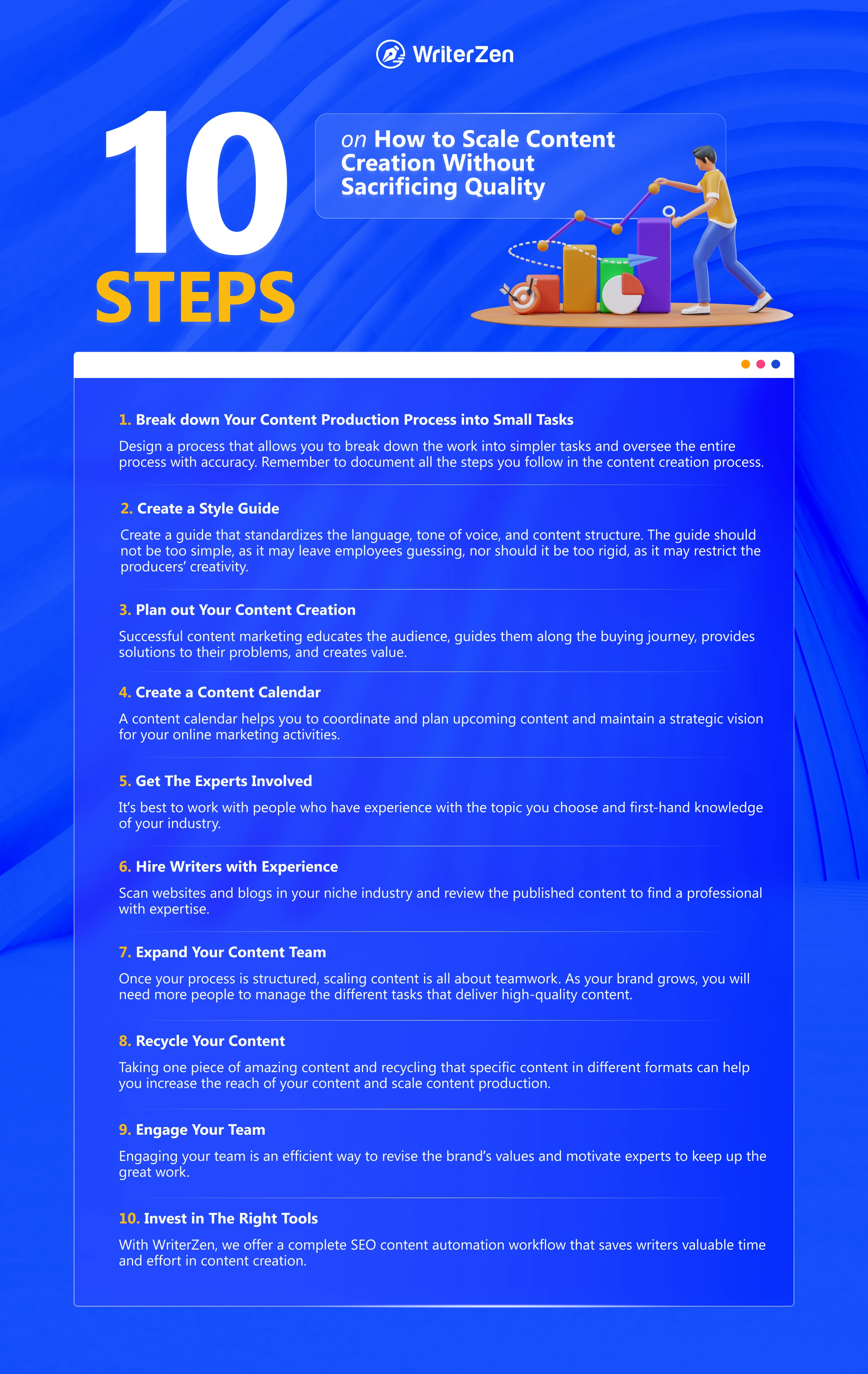 Break down Your Content Production Process into Small Tasks
In the first step, it's important to realize how the whole content creation process stretches out.
Creating professional content requires various steps, including keyword research, creation of guidelines, writing, editing, design, and publishing.
You will need to design a process that allows you to break down the work into simpler tasks and oversee the entire process with accuracy.
By breaking down the tasks, you will be able to see how they can be managed by other team members, who may be experts at the task at hand. This is a vital step to ensure scalability.
The goal here is to document all the steps you follow in the content creation process. This will help you understand how your processes function, give you more control over them and facilitate the delegation of tasks.
Create a Style Guide
Often, managers responsible for creating their own content or relying solely on a handful of credible experts will be wary of hiring new producers or outsourcing the service. This is because they fear that their expectations may not be met.
But, as your website grows, you will have to expand your team, avoid disagreements, and maintain brand standards.
To ensure your newly hired experts are aligned with the project and meet the standards of quality for your content, you should have a style guide. This guide acts as an in-depth manual to guide employees in your company's communication channels.
The document helps the employees standardize the language, tone of voice, and structure of the content they create. In the style guide, you will need to clarify to employees and external service providers what you expect from their work.
Your style guide should not be too simple, as it may leave employees guessing, nor should it be too rigid, as it may restrict the producers' creativity.
We highly recommend creating additional guides for more specific tasks such as writing, design, development, and planning. This will help provide insight into more technical aspects of the work.
Plan out Your Content Creation
Randomly designing pieces of content is not a great idea. Successful content marketing educates the audience, guides them along the buying journey, provides solutions to their problems, and creates value.
This is when the inbound marketing approach can be very useful. This method involves producing content based on where the customer is in the sales funnel.
Below are a few examples of formats for each stage of the sales funnel:
ToFu: videos, webinars, blog posts, and interactive content.

MoFu: ebooks, podcasts, blog posts, infographics, quizzes, and questionnaires.

BoFu: testimonials, reviews, demos, and cases.
Create a Content Calendar
A content calendar is basically a chronological order of your content creation process. It helps coordinate and plan upcoming content.
Your content calendar must be extremely organized. It's almost like a checklist, with each task broken down into simpler steps.
It's also important to monitor and document the current status of those steps, especially when several professionals are involved. This will help ensure that content is delivered within deadlines.
The content calendar helps you maintain a strategic vision for your online marketing activities. It prevents common pitfalls such as gaps in specific topics, which will cause customers to look for more information on other websites.
Your content calendar needs to have enough flexibility to work around unforeseen situations, but your strategy needs to be unshakable.
You should preferably plan your content production over a long period of time, such as six months or a year. This will help your website grow more consistently and reassure the professionals involved in the process.
Get The Experts Involved
To keep up with the volume of work, most businesses that push content marketing will need to hire writers.
But, hiring just any freelance writer won't get you the desired results. It's best to work with people who have experience with the topic.
Google experts recommend the E-E-A-T attributes (experience, expertise, authority, and credibility) as one of the best practices.
To find a writer with first-hand knowledge of your industry, look for other blogs within your niche and get in touch with the writers to see whether they are available.
Another option is to look for individuals who contribute to websites in your niche.
Hire Writers with Experience
Today, it's not that difficult to come across good professionals in the market. But good is not enough. It would be best if you found the right professionals for your business.
A formal qualification or certification should be a basic requirement, but hiring a professional with expertise in projects like yours can add much more value to your business.
To find these specialists, you need to scan websites and blogs in your niche industry and review the published content.
When a specific post grabs your attention, you can get in touch with them to find out details about the writer or producer and their availability.
Most writers and content creators have their own websites or digital portfolios, which will make this process much more convenient.
Expand Your Content Team
If you're serious about scaling your content production, you must staff up. Whether your team consists of freelancers, full-time writers, or a combination of both, you need to have enough people to push out the workload.
Once you have your process structured, scaling content is all about teamwork. It's not a one-man-kind of job.
As your brand grows, you will need more people to manage the different tasks that deliver high-quality content.
The people you hire depend on the type of content format your business produces. Hiring a team for a webinar will be very different from writing a blog.
Some of the main roles that could help scale up your business's content production include designer, content coordinator, editor, developer, content promoter, data handler, performance analyzer, and SEO expert.
You don't have to hire a person for every single role. In most cases, you will have one person who is responsible for more than one role.
Recycle Your Content
Recycling or repurposing your content consists of taking one piece of amazing content and recycling that specific content in different formats. This includes text, images, video, and interactive materials.
But that doesn't mean copying and pasting it across different formats. You will need to edit the original content so it 100% matches the new format.
For example, suppose you currently have ebooks in your marketing strategy. In that case, you can repurpose these pieces of content into smaller ones, such as blogs.
You can also highlight the key topics covered in the material and create specific posts using long-tail keywords. This will help you increase the reach of your content and strengthen your pillar posts.
Recycling your content is done correctly is an effective way to scale content production.
Recycling your content also improves the user experience because they are able to consume your content in the most convenient way.
Engage Your Team
Creating content for online marketing is not solely an operational job. Great content depends on expert knowledge and training but also on dedication and creativity.
That's why your business needs to create ways to ensure healthy communication with your staff, provide constructive criticism, and show support.
Engaging your team is an efficient way to revise the brand's values and motivate experts to keep up the great work.
Having a community forum or social network for your staff can help in terms of support and guidance.
Invest in The Right Tools
There are plenty of tools available to help you ramp up your content production.
With WriterZen, we offer a complete SEO content automation workflow that saves writers valuable time and effort in content creation.
From generating valuable insights from Keyword Planner to quality content with the innovative AI Writing Assistant, any SEOer can scale their content creation efforts while maintaining the highest standards of quality, ensuring their work reaches a wider audience and achieves maximum impact.
Final Thoughts
Scaling your content creation provides several benefits, but it must be done correctly.
Certain steps, like the ones we've mentioned above, will help you scale content production without compromising quality.
We hope our lesson has been insightful and answered any questions you may have about scalable content production.