It's natural to experience a decline in organic search traffic for your content over time.
After all, not every piece of content you create can be evergreen.
For instance, say you run a fashion blog and publish a blog titled "5 Must-Try Fashion Trends for Summer 2023," highlighting the latest fashion trends for the upcoming summer season.
Now, at the time of publication, the topic may be highly relevant and engaging and even drive enormous traffic to your website. But as Fall (or even the following summer) rolls around, the trends are likely to go out of vogue, making the content less and less valuable to your audience.
We understand that with the constant stream of new content you produce, it must be easy to overlook old content and focus solely on the traffic generated by your latest publications.
But know that if you've been neglecting old content, it's bad news for your SEO efforts.
Search engines like Google and Bing love fresh and relevant content; they are consistently re-evaluating their algorithms to serve consumers with the latest, most valuable, and up-to-date information possible.
So, if your website content is outdated, it can hamper your website traffic and damage your credibility.
But there's good news: there is a way to reclaim your lost traffic and keyword rankings. How? By refreshing older pieces of content.
Why Update Old Content?
Let's first answer what a content refresh really means.
Simply put, it is breathing life into older and outdated content pieces to make them relevant and valuable for its current audience.
So, for example, if you had published a blog titled "Top 10 Social Media Tips for Small Businesses" a year ago, you could refresh it with new social media trends, statistics, and tips and republish it in your current year.
Let's look at how refreshing old content helps you unlock a whole new opportunity for content promotion:
Bring Your Rankings Back from the Dead
Search engines like Google constantly crawl the Internet to find and index new content. When they find content that is relevant, useful, and up-to-date, they rank it higher in search results.
This means that people searching for a particular topic are more likely to find and click on your website's link if your content is up-to-date and relevant.
For instance, if a travel website has a blog post on "Top 10 Travel Destinations in Europe for 2021" and they update it in 2023 with the latest information and travel trends, it increases their chances of appearing higher in search engine results for relevant queries like "best travel destinations in Europe."
Go on and look up "top travel destinations in europe" on Google, you will find that the articles that appear on the first page list destinations relevant to 2023.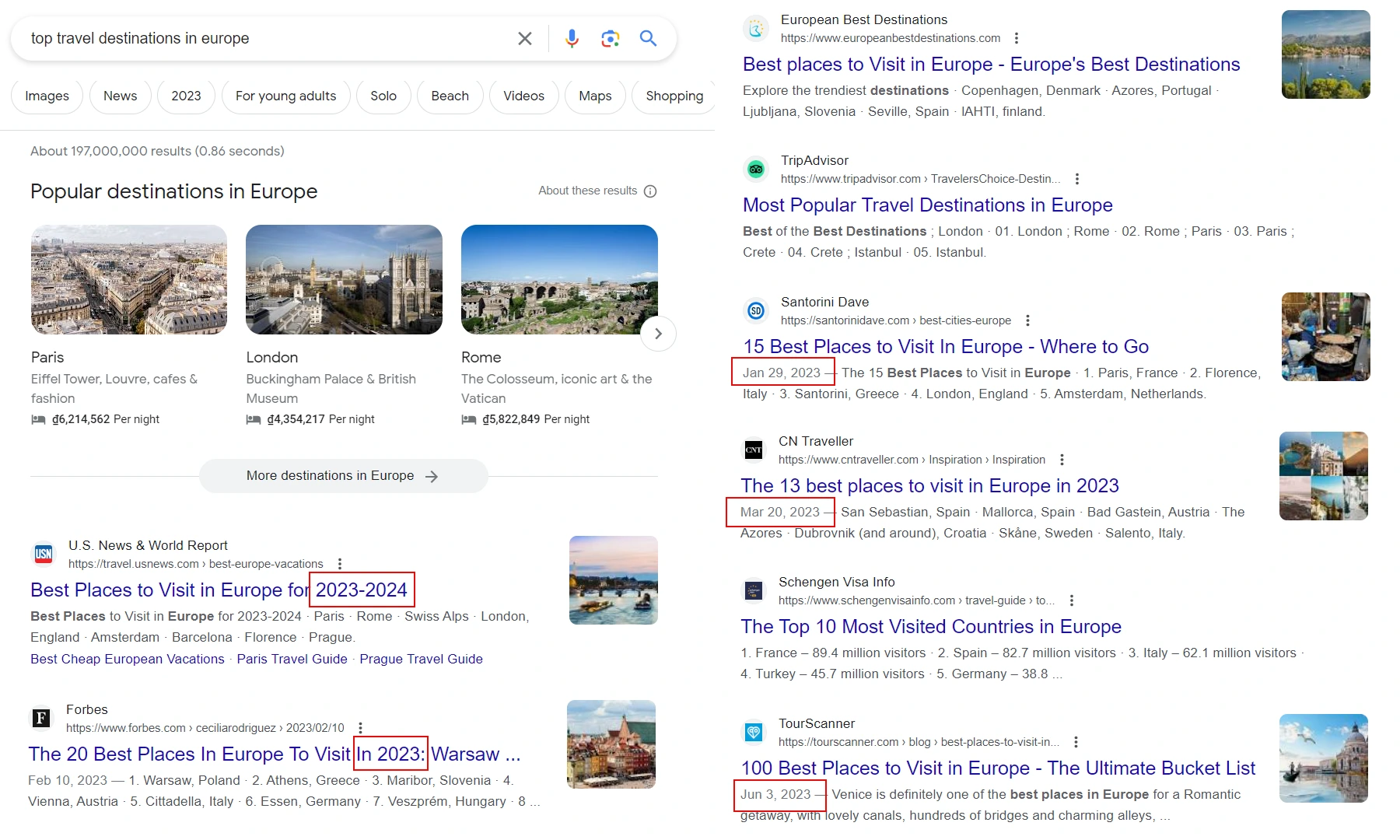 Giving your old content a facelift is possibly the most thrifty and prompt way to reach a wider audience, as well as please the SEO gods.
Did you know search engine algorithms reward websites that regularly update their content with higher search rankings? Case in point—Google's Freshness Update (2011) and Bing's Freshness Algorithm (2012).
Google practically says content, like "warm cookies right out of the oven" is best served fresh.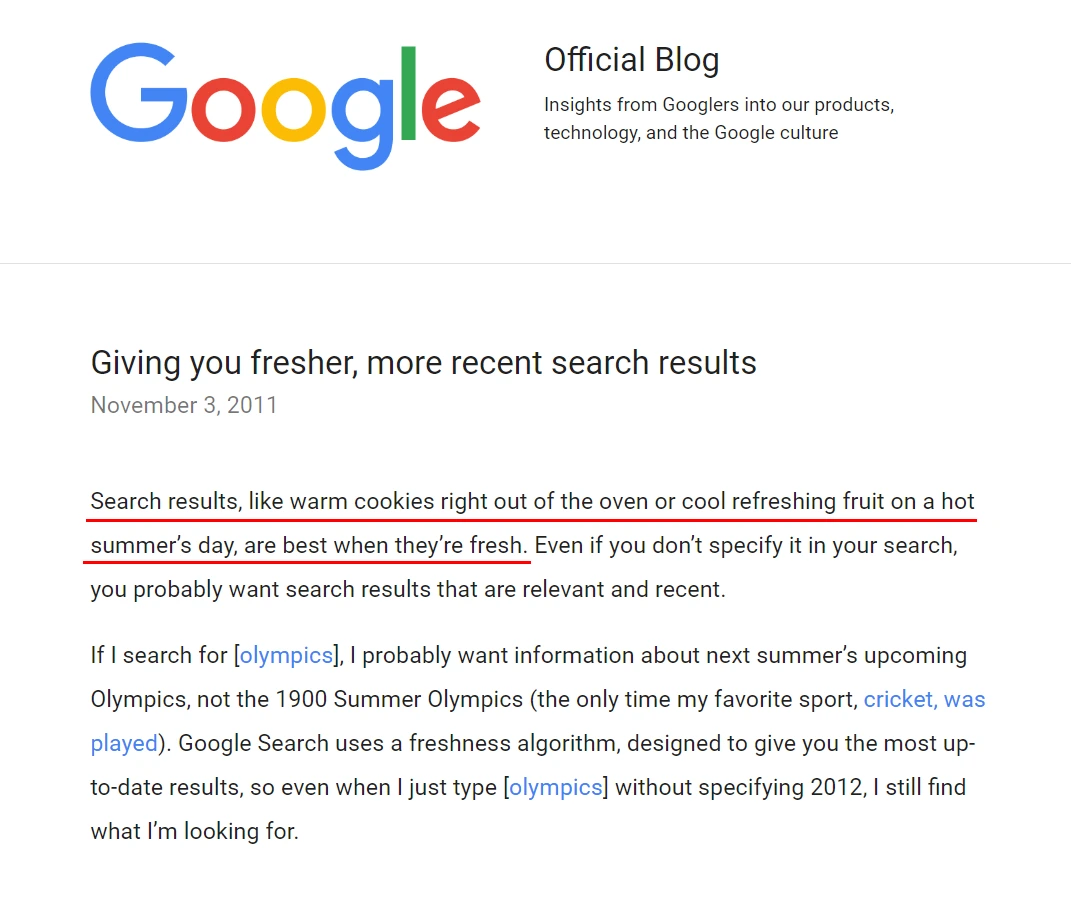 It looks at up-to-date search results as most relevant and accurate.
For instance, if you searched for "best smartphones to buy," you are unlikely to be looking for smartphones that released in 2021, are you? Google understands this and shows you results for the most recent smartphones without you specifying the current year.
Yep, fresh content improves user engagement, reduces bounce rate, attracts more social sharing, and signals to search engines that your page is authoritative.
Boost User Experience
Not just from an SEO point of view, updating content to add recent and more relevant information also enhances user experience.
For one, it shows your audience that you are actively engaged in your industry and committed to providing them with the most accurate information. That's trust and credibility for you.
Secondly, updated content is more informative and engaging; it ensures readers don't lose interest or even become frustrated with the lack of relevant information.
Generate More Revenue
The content present on your page may have created trusted leads, right? Updating it is a quick way to capitalize on your already-established link equity, backlinks, and trust signals without further investment in new content.
This typically means optimizing existing content with new information and keywords to expand your reach to new audiences. The result? Increased traffic, potential revenue, and opportunities through ads or sales!
Plus, you can also repurpose old content into new formats to share on relevant social media platforms for more exposure.
How to Identify Outdated Content for Updating
Expired content usually has tell-tale signs. Here's how you can identify outdated content:
Loss of Rankings
This is a no-brainer, really. If your content-driven page is losing ranking consistently, chances are, your content has become (or is gradually becoming) obsolete. Keeping an eye on ranking fluctuations is a foolproof way to accurately understand how and when your content should be updated.
Check out competitor pages and see if their content is more relevant and up-to-date compared to yours. If they are ahead of you in ranking, it is time for you to start revamping your content.
The goal is to pinpoint pages that have experienced a significant drop in rankings over time. Use a spreadsheet to create a list of such websites so you don't miss out on any.
Decreasing Traffic
For a website that is content-heavy and typically relies on organic searches to boost footfall, tracking traffic to your page is the best way to catch outdated content that needs revamping.
With that said, keeping track of all rankings is virtually impossible. A great way to do so is by using Google Analytics to identify the decline in traffic from organic search.
Loss in Backlinks
If you lose too many valuable links, your website's link equity/ link juice can take a major hit, which will then negatively impact its rankings in search engine results.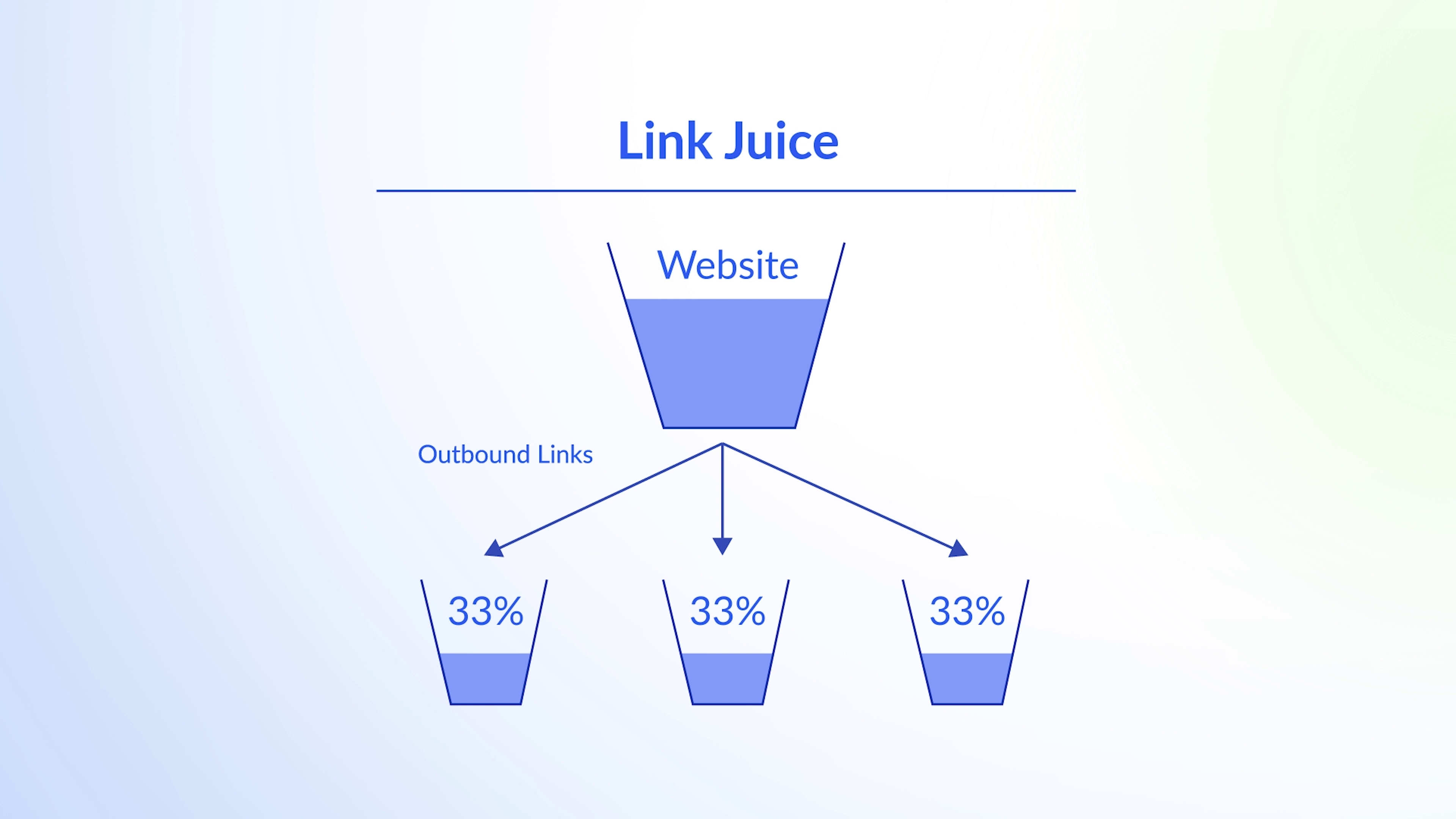 The quick fix? Identify and update your page links to reclaim any link equity you may have lost.
You can use a backlink analysis tool like Majestic to identify any pages on your website that have lost backlinks or link equity over time.
Broken Links
Broken links hurt your website's user experience and SEO—no secret there. They are usually an indication that the content on the linked page is outdated or altogether removed.
For instance, let's say a beauty website removes a product page for a specific red lipstick. But you've published a blog post that reviews that same shade of lipstick and included a link to that product page.
Now if a user were to click on that link to purchase the lipstick, they would encounter an error page, wouldn't they? That would lead to a negative user experience and a lack of trust in your website.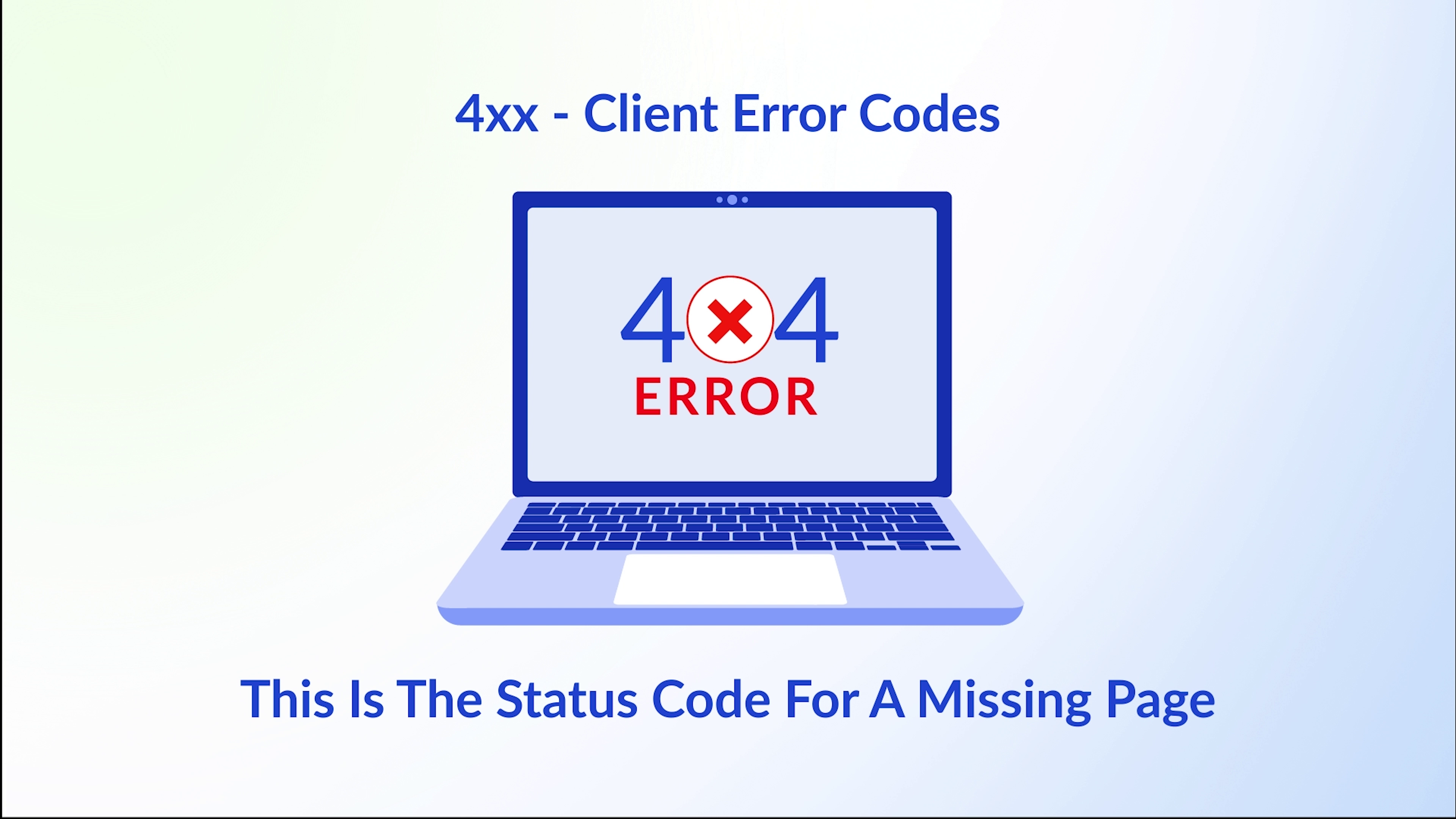 This is why it's a good practice to fix your internal and external links from time to time, to ensure your content marketing efforts don't go to waste.
You can use a broken link checker tool such as Broken Link Checker or ScreamingFrog to identify any broken links on your website.
Once you have identified the broken link, you can review them manually and see if they need to be updated or removed.
How to Refresh Old Blog Posts
Adding new content regularly to your website is a surefire way to drive traffic to your website. But how about leveraging your older pieces of content that are buried deep in your archives with minimal traffic and relevance?
Here's 5 strategies to help you out:
Update with New Information and Insights
Adding new information involves making minor, much-needed tweaks to your content—updating numbers to the latest figures, adding current-day information, new insights, etc.—to make it more valuable to readers.
Or, if you have an article highlighting the benefits of email marketing, consider resurrecting it with new insights on the latest email marketing techniques or best practices that have emerged since the article was first published.
Repair Broken Links
Go through your old blog posts that contain internal or external links to pages that no longer exist and update them to redirect to new pages that are relevant. Or, you might consider removing them altogether.
Oftentimes, when you update your website's structure, some of your old blog posts' URLs may become broken and no longer work. In such cases, you should create 301 redirects to point visitors to the correct URL.
Re-Publish on Third-Party Websites or Guest Posts
This is basically syndicating your blog posts on authoritative third-party websites for more exposure.
It might involve reaching out to relevant websites and offering to guest post an old high-performing blog in exchange for a link back to your website. Or you might consider submitting to credible industry publications.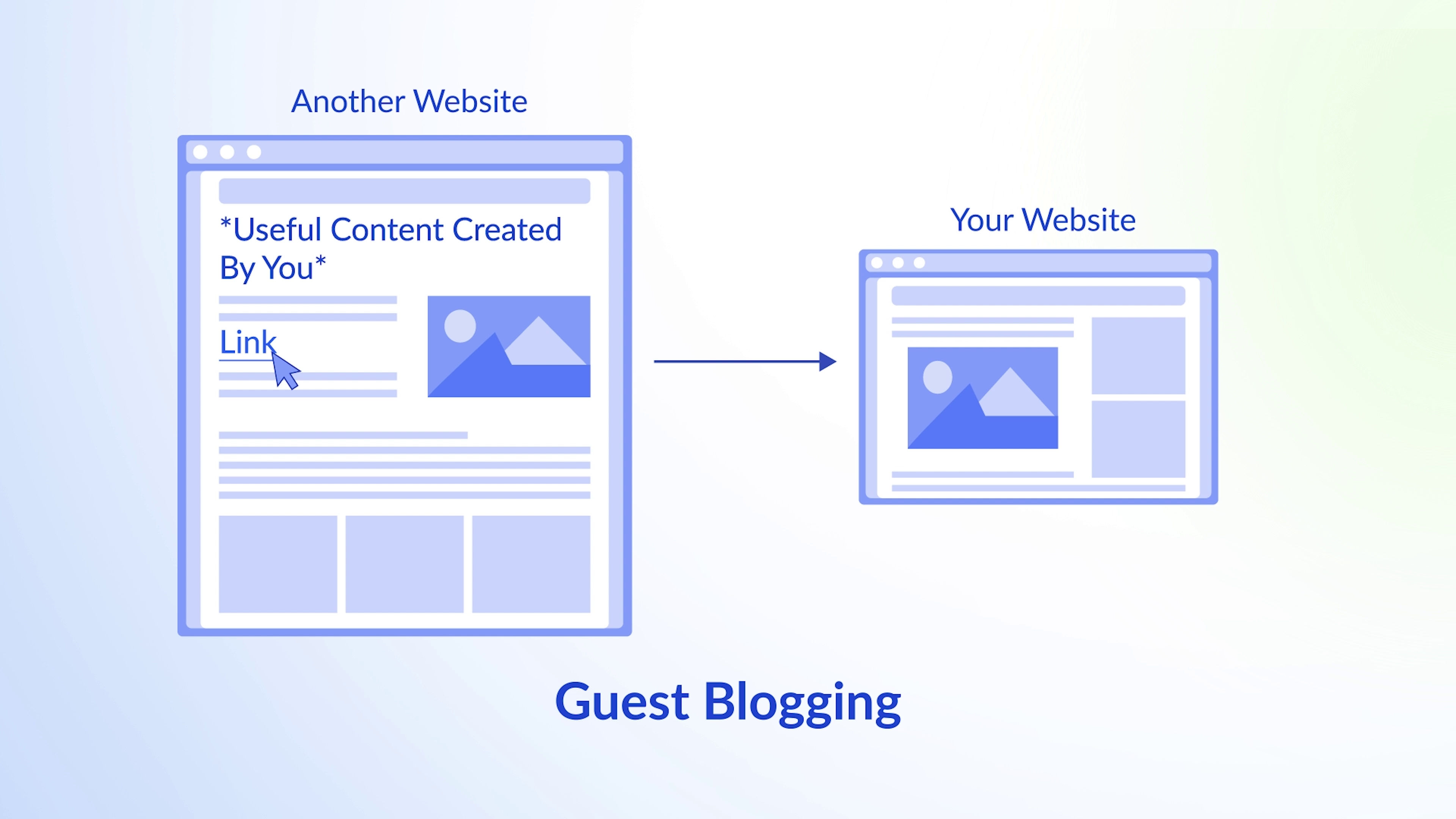 For instance, if you have an old blog post about budgeting, you could reach out to websites like The Balance or NerdWallet for republishing to earn high-quality backlinks from credible publications. Or you could turn a high-performing blog post into a YouTube or Instagram video, or even a podcast episode.
The idea is to rework your existing content and publish it on new channels in their respective high-converting formats.
Before submitting for guest posting, make sure you review and update/delete any outdated content to avoid confusion or misleading information.
Remove Unwanted Content Pages
Oftentimes, the best solution is to do away with low-performing pages that have outdated or irrelevant content. It is a quick and easy way to improve your website's SEO and user experience.
All you have to do is use Google Analytics to identify pages that have a high bounce rate, low engagement, or low traffic. Take a good look at its content—if it is no longer useful and irrelevant, consider deleting the page.
However, if the content is still redeemable, you might go ahead and update it with new information.
Word of caution: If you do decide to delete a page, make sure you redirect the URL to a relevant page on your website to avoid broken links.
Pro Tip: Focus on Creating Evergreen Content
As you continue to grow your content marketing campaign, consider focusing on creating evergreen content instead of (or alongside) timely content pieces.
It is a great prevention-is-better-than-cure strategy, so to speak, to drive ROI eternally and ensure your content is not forgotten in the flurry of marketing activity.
Plus, you will be able to attract a steady flow of traffic to your website, and maintain your relevance and authority without constant efforts.
So, how do you create evergreen content?
In general, evergreen content focuses on timeless topics that are not subject to significant changes over time. It could be high-quality, how-to guides, whitepapers, lists, or educational resources.
For instance, if you are a finance content creator, you could create a start-to-finish guide titled "How to Create a Budget" that covers topics such as expense tracking, setting financial goals, monitoring spending habits, and saving for the future.
InCharge's comprehensive budgeting and saving blog ranks amongst the top search results despite having been created in 2019.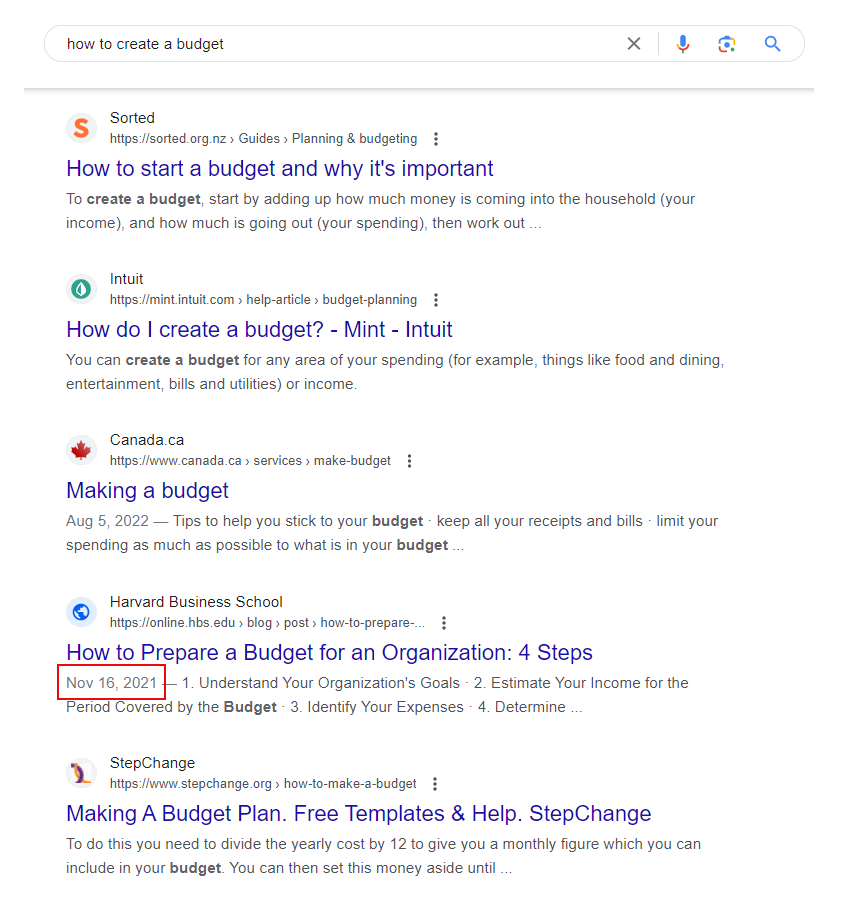 Other examples include tutorials, glossaries, infographics, encyclopedias, and e-books. For instance, "An Introduction to Photoshop for Beginners" or "A Comprehensive Glossary of Marketing Terms."
You might also create historical retrospectives that have the potential to generate ongoing traffic and engagement on digital platforms. For instance, an article on "The Most Iconic Fashion Trends of the 20th Century."
The goal of creating evergreen content is to make sure that your website remains relevant and valuable to your audience over the long term.
Final Thoughts - Give Your Outdated Content a Facelift
Refreshing outdated content is an excellent way to juice your SEO efforts and establish yourself as a thought leader in your industry. When you update your content regularly, you send a strong signal to search engines that your website is relevant and valuable to your audience, which can help you climb up the search rankings.
So, don't let your old content gather dust on your website — go ahead and dig through your archives and give those old blog posts the facelift they deserve. Your audience (and search engines) will thank you for it!