Ease your keyword research workflow
Research, cluster, and build lists of easy-to-rank keywords from Google's search database.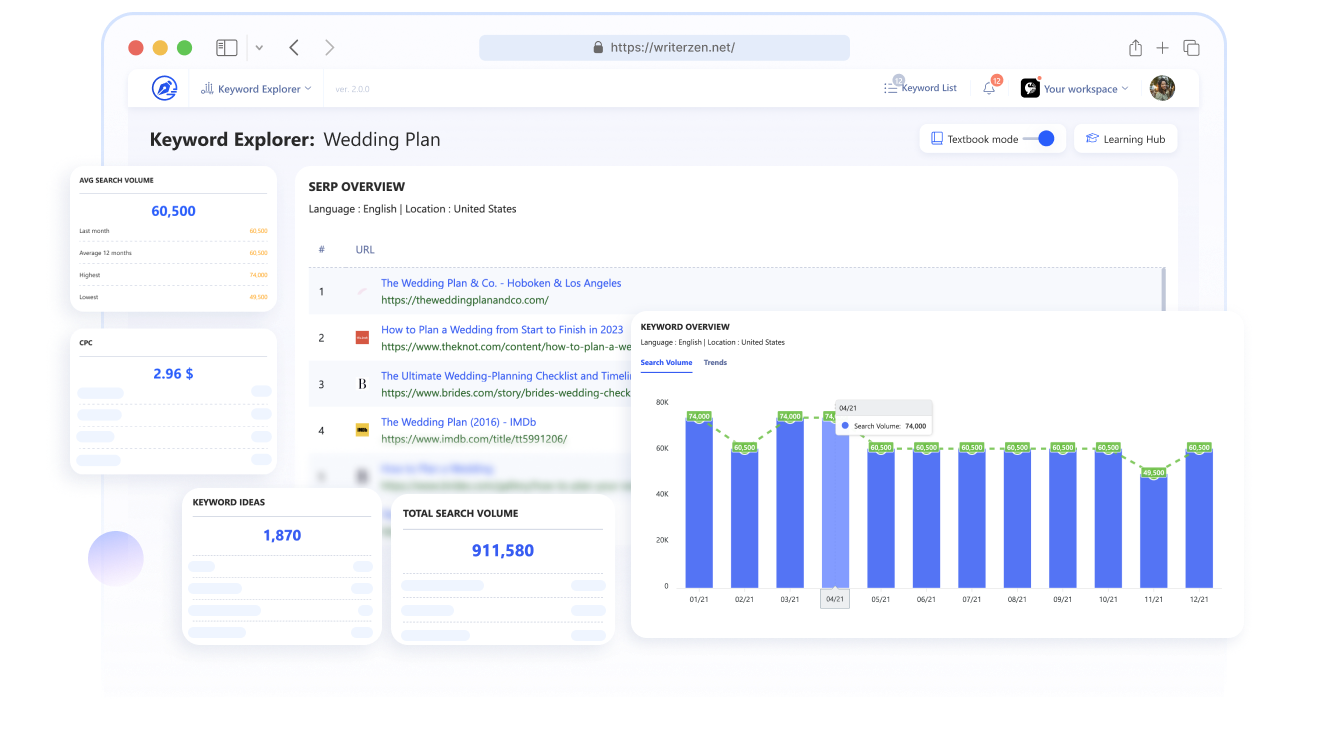 "I primarily use WriterZen for keyword research.
Its Keyword Golden Filter is the most impactful feature that caused me to buy this product in the first place.
Since, then I have loved how WriterZen eases everything in the dashboard from topic discovery, keyword research, and plagiarism checker."
Daria Pimkina - Hotvision Digital Agency, CEO, Owner
"My experience is that
Writerzen provides one of the most comprehensive keyword research & content marketing tools
which has helped me easily research & analyze thousands of keywords in 30 minutes"
Paolo Cima - Hotvision Digital Agency, CEO, Owner
"The keyword clustering functionality is by far my favourite part of WriterZen.
It produces keyword ideas with actual search volume that I have not found from any other tool.
This is great for developing a content plan or strategy."
Trusted by 11,930+ marketing teams, SEOs, and agencies.
How WriterZen
maximizes your SEO efforts
Watch A Demo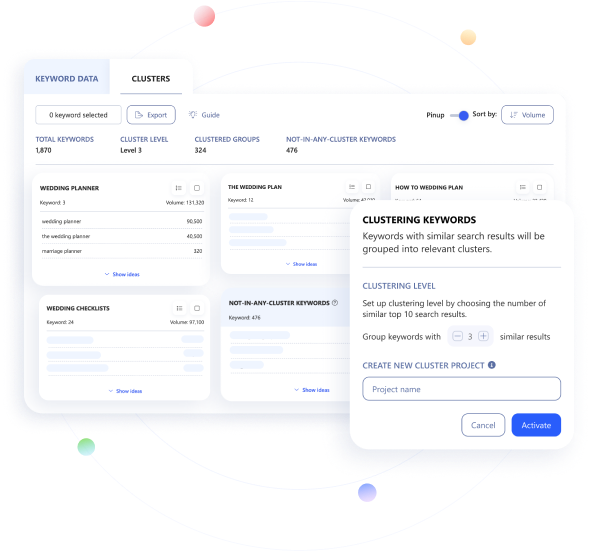 Advanced
keyword clustering
Expedite your keyword research workflow. Generate 1000s of keyword ideas from one phrase – people also search, phrase match, etc.
Toggle a few filters to cluster these 1000s of keywords into content topics on the spot.
Explore keyword variation

with Wildcard search

WriterZen's Wildcard research path lets you find the deepest level of intent behind Google searches related to a product or service by exploring all possible variations of a seed keyword with *operator.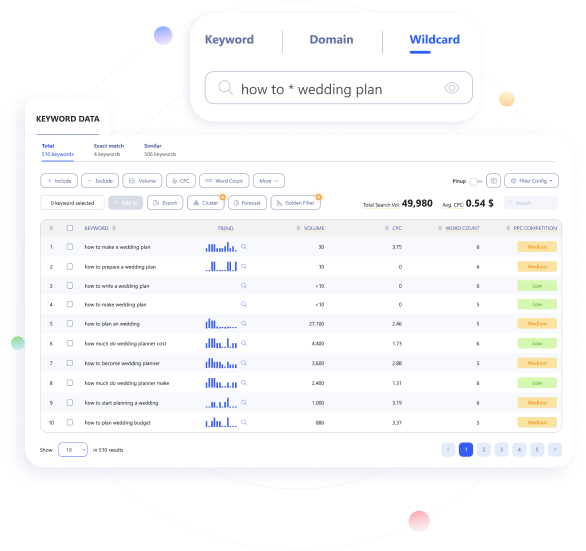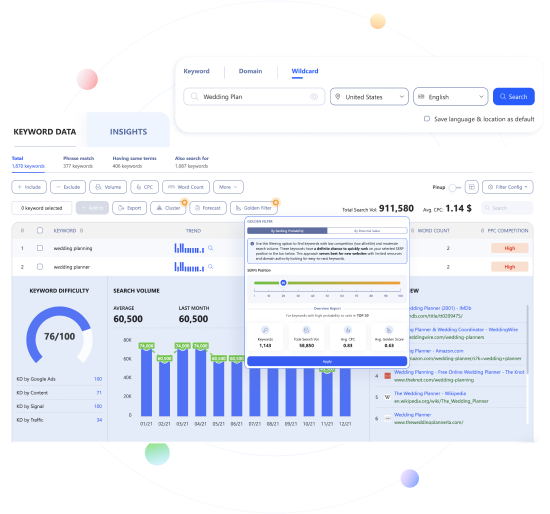 Discover
Golden, low-
competition keywords
Analyze thousands of Google's Allintitle keywords with our Golden Filter to find low-competition, high-value search phrases.
Sort Golden Keywords based on their ranking probability or potential value with a seed keyword.
Build
long-tail keyword

lists

From words to include or exclude to CPC, word count, search volume, Google's Allintitle data, etc., access different filter choices for picking and building lists of long-tail keywords relevant to your business.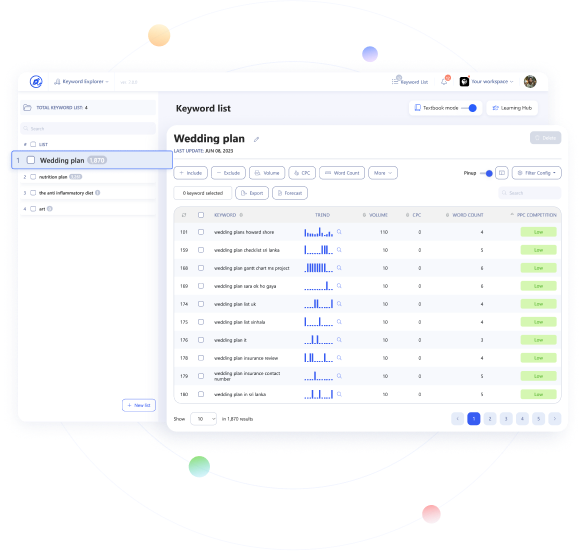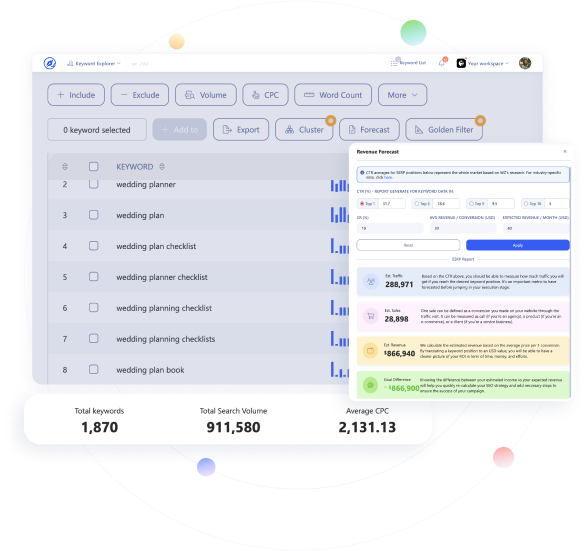 Forecast
keywords' revenue
Our proprietary Revenue Forecast analyzes Google's organic CTR history across industries.
Start forecasting sales potential if you rank imported keywords on different SERP positions.
WriterZen Enterprise
An end-to-end platform that consolidates your workflow, scales quality content, and effectively manages your writers








































Stop juggling multiple content tools.
All-in-one: Research, strategize, create, and optimize high-ranking content.

Research
Topic Discovery
Topic Clustering
Keyword Explorer

Plan
Identify Golden Keywords
Keyword Clustering
Advanced Keyword Insights
Suggested Content Brief

Execute
Content Research
Create Outlines
AI Assistant
Content Generation
Content Analysis
Plagiarism Checker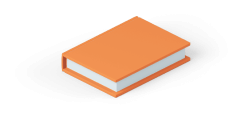 Frequently Asked Questions
Where are the keywords data from?
We collect the data directly from the Google Keyword Planner tool and Google Suggestion Database, so the results users receive are highly relevant for their SEO keyword planning projects.

WriterZen believes that direct access to Google is the best way to obtain accurate data for our users, and we can guarantee that our results are reliable.
Can you add your metrics to the keyword list?
In creating the list, we intended it to serve as a place to store your ideas and keywords, so there may be a mix of keywords and ideas (different times and types of keywords), and you may not have decided when to use it.

Therefore, we do not set the metrics of the keyword list. If you would like to conduct a keyword search on your desired keywords, you can use the Keyword Importer tool.
Does WriterZen provide local insight?
Because we are not experts in local keyword strategies yet, we have developed a Keyword Importer tool to conduct SEO keyword research on local businesses (such as those located in your city or state). You can use it to import your target keywords to run the Golden Filter and Cluster function as it would our Keyword Explorer tool.
What are your daily and monthly credit explanations?
Daily credit will be refreshed after 24 hours, and monthly credits will be reimbursed every month (the date you activated the tool).
For more information, please check this
link
.
What languages do you support?
In the current version of our keyword research tool, English is the only language supported on the front end. Still, the tool supports 46 different languages in 195 locations worldwide!
Simply click on the "Language" option in the search bar at each tool to derive data from your region of choice.
For more details? Click
here
.
Do you have WordPress and Google Search extensions?
Extensions for both Chrome and WordPress are high on our priority map, and we plan to release them by Q3 2022.