The better way to do keyword research
Proprietary algorithm that ties together complete research process to generate keyword lists and classify search intents at scale.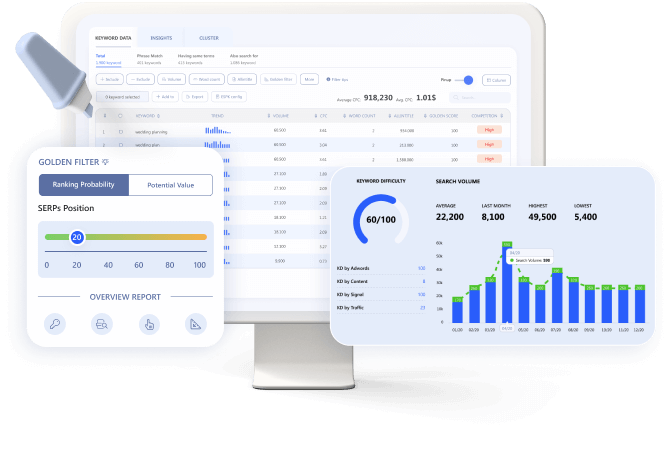 Keywords of great Authority, from the original source
Ensure the integrity of your content by using keywords taken only from the Google keyword and suggest database.

The surer way to rank
Effortlessly uncover keywords that are low in competition and high in search volume with patented Golden Filter.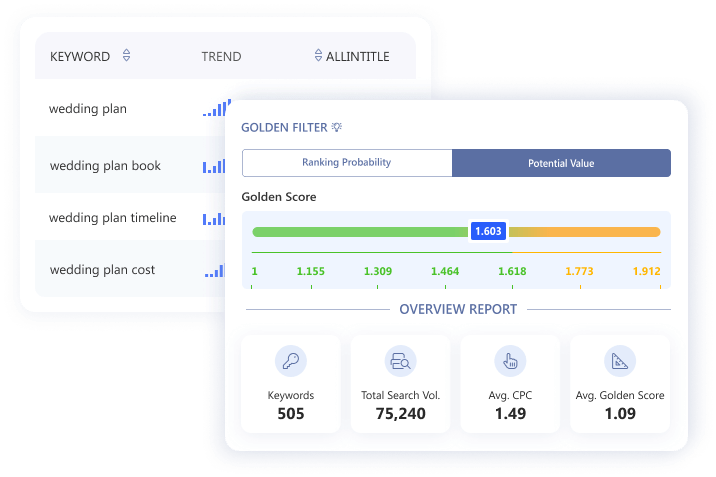 Discover the demand for a given seed word and the supply of articles based on it.
One of a kind algorithm to bulk check allintitles and gauge the level of competition for a seed word.
Categorize keywords to fit them in different phases of your SEO strategy based on their ranking ability.

Vlad Martinez
SEO Consultant
The possibilities offered by WriterZen are endless! A powerful tool that improves month after month. Keyword cluster is so useful and helps avoid wasting hours of researching by hand.
Uncover targeted article titles
Save up time by automating the process of clustering keywords based on similar ranking probability to generate a list of articles.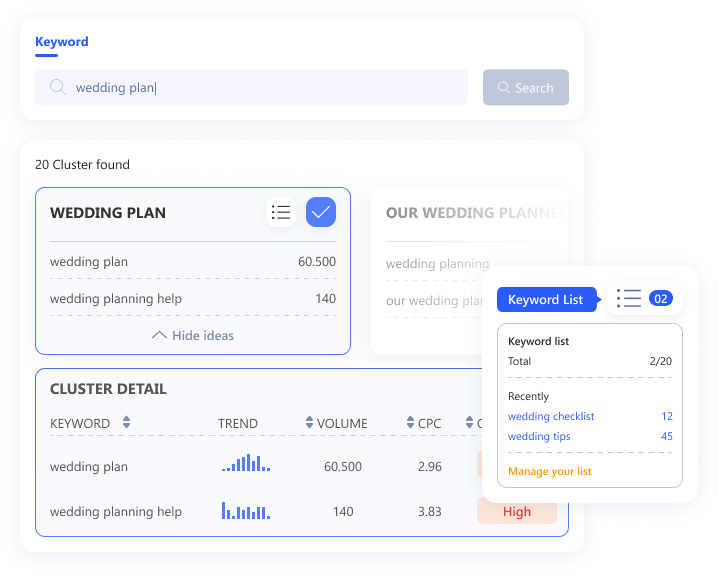 Spot-on accuracy in grouping keywords with similar search results and ranking ranges.
Integrate keyword clusters into your content strategy to build a content funnel that maximises conversion rates.
Select desired keywords and save them to create a ready-made database of your own.

Laura Burnett
Director at IT Moon
This is for those who want to look at blog writing. It lets you do some keyword research to see what to write about, it then helps you write it by comparing it to other blogs.
Think like your audience
Win over writer's block and fill information gaps in your content funnel with dedicated insights from users' search bars.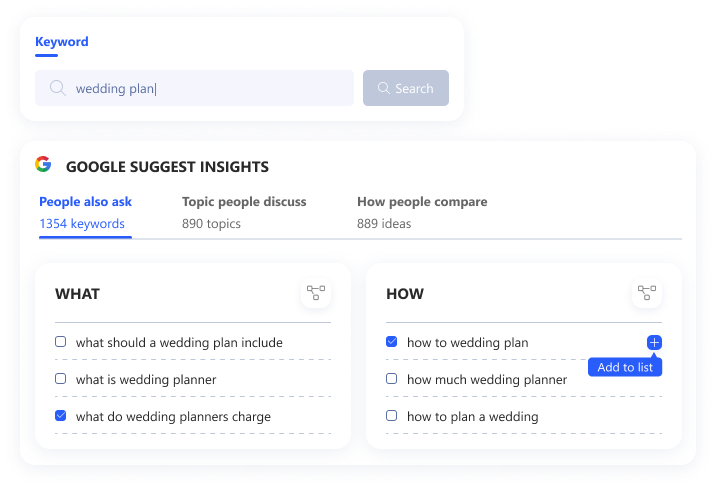 Use insights generated directly by the audience in the form of Google search questions.
Get a peek into the topics of live discussion.
Know exactly where to invest and how to shape your content strategy.

Paolo Cima
Hotvision Digital Agency, CEO, Owner
WriterZen is the best keyword research software on the market. It has helped me generate ten of my most profitable keywords in no time. I highly recommend it!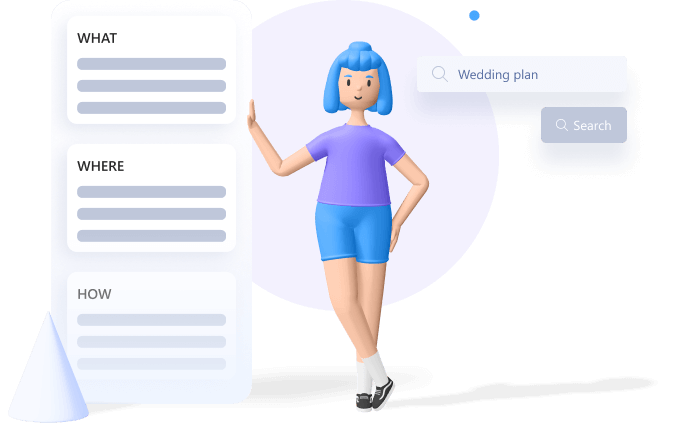 Count your chickens (before they hatch!)
Get into the business of doing SEO to know how well your content with chosen keyword sets is going to perform in terms of revenues.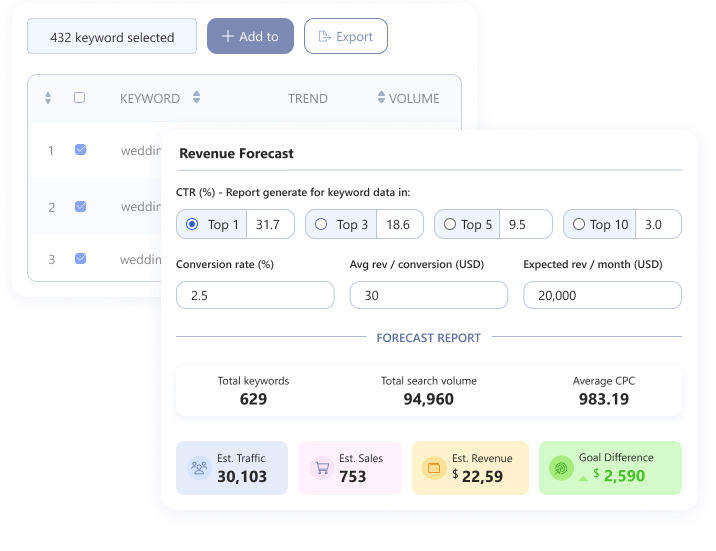 Quantify the chances success and revenue results even before running a campaign.
Neutralize risks on below-average returns with revenue forecasts and guarantee success.
Project a clear picture of expected SEO revenue goals before your team and clients.

Max Bissolati
Digital Creative Director at Mae Artisan Rugs
I'm a massive fan of WriterZen. It's an excellent tool for those looking to find new keywords or keyword clusters. It gives me the confidence to know that the content I'm creating will stand an excellent chance to rank well and deliver value to the work I do.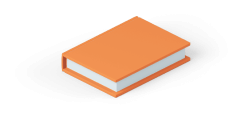 Frequently asked questions
Where are the keywords data from?
We collect the data directly from the Google Keyword Planner tool and Google Suggestion Database, so the results users receive are highly relevant for their SEO keyword planning projects.

WriterZen believes that direct access to Google is the best way to obtain accurate data for our users, and we can guarantee that our results are reliable.
Can you add your metrics to the keyword list?
In creating the list, we intended it to serve as a place to store your ideas and keywords, so there may be a mix of keywords and ideas (different times and types of keywords), and you may not have decided when to use it.

Therefore, we do not set the metrics of the keyword list. If you would like to conduct a keyword search on your desired keywords, you can use the Keyword Importer tool.
Does WriterZen provide local insight?
Because we are not experts in local keyword strategies yet, we have developed a Keyword Importer tool to conduct SEO keyword research on local businesses (such as those located in your city or state). You can use it to import your target keywords to run the Golden Filter and Cluster function as it would our Keyword Explorer tool.
What are your daily and monthly credit explanations?
Daily credit will be refreshed after 24 hours, and monthly credits will be reimbursed every month (the date you activated the tool).
For more information, please check this
link
.
What languages do you support?
In the current version of our keyword research tool, English is the only language supported on the front end. Still, the tool supports 46 different languages in 195 locations worldwide!
Simply click on the "Language" option in the search bar at each tool to derive data from your region of choice.
For more details? Click
here
.
Do you have WordPress and Google Search extensions?
Extensions for both Chrome and WordPress are high on our priority map, and we plan to release them by Q3 2022.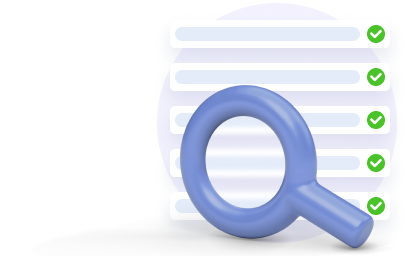 Quality Research Matter
Identify the right keywords require a substantial amount of work. WriterZen makes that research process easier, yet remains as accurate as ever.
Start a free trial