Understanding User Search Journey in Demand Capturing
WriterZen
Content SEO Software Company
Mar 28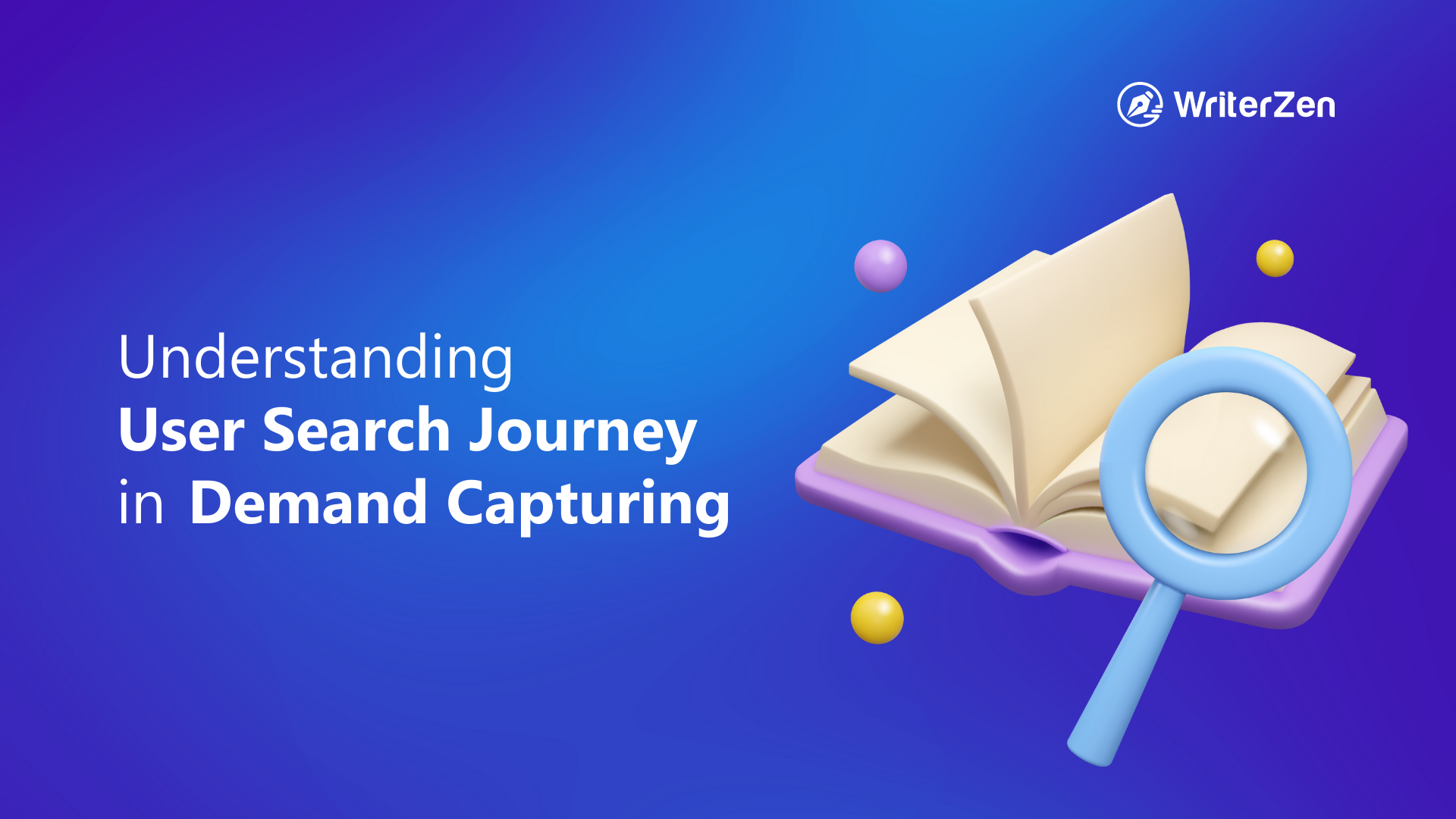 <p dir="ltr">No one just wakes up one fine morning and goes, <em>&ldquo;I will buy so-and-so today.&rdquo;</em> Instead, they go through a definitive path&mdash;from discovery to decision&mdash;carrying out painstaking research and evaluation at every stage before finally committing to a purchase.</p> <p dir="ltr">It typically starts with a <strong>problem</strong> and an earnest search for its <strong>solution</strong>.&nbsp;</p> <p dir="ltr">As people embark on their self-guided journey for answers, they gain enough confidence and move towards <strong>consideration</strong>. After careful analysis of their options and diligent assessment of the seller's reputation, they eventually make a <strong>decision</strong> <em>(hopefully, a purchase)</em>.</p> <p dir="ltr">That's the general <em>(non-linear so)</em> pattern of a customer's journey online.&nbsp;</p> <p dir="ltr">And as a content marketer, your job is to figure out:</p> <ul> <li dir="ltr" aria-level="1"> <p dir="ltr" role="presentation">What your potential customers (the decision-makers) are searching for,</p> </li> <li dir="ltr" aria-level="1"> <p dir="ltr" role="presentation">What goals they wish to achieve at each stage (search intent),</p> </li> <li dir="ltr" aria-level="1"> <p dir="ltr" role="presentation">And what steps you can take to move them to the next stage.</p> </li> </ul> <p dir="ltr">Imagine you have a potential customer in the problem stage who doesn't feel &ldquo;content&rdquo; <em>(yep, pun intended)</em> with the information they find about your product or service, would they graduate to the next (i.e., consideration) stage?</p> <p dir="ltr">Evidently not!</p> <p dir="ltr">Or if they are in the decision stage comparing your product to a competitor's XYZ product and all they find is <em>"Here is Why XYZ is The Best Product For You"</em> &mdash; which product do you think they will go for?&nbsp;</p> <p dir="ltr">Your competitor's, no doubt!</p> <p dir="ltr">You never volunteered any matching content to give them that last nudge toward a purchase!</p> <p dir="ltr">So, you get it. The idea is to <strong>cater content matching your audience's search intent</strong>.</p> <p dir="ltr">How? By sitting down and researching your target audience&mdash;understanding their problem points, figuring out how they find you, how they do due diligence, assess reputation, make buying decisions, what questions they ask, <em>etcetera etcetera.</em></p> <p dir="ltr">For instance, if you are a real estate agent, your potential customers are likely to start with questions like <em>"is investing in real estate a good idea?"</em> or <em>"why invest in real estate?"</em></p> <p dir="ltr">They will move to queries like <em>"what should i know before investing in real estate?"</em></p> <p dir="ltr">Provided that they find satisfactory answers, they will then want to find out <em>"how to invest in real estate"</em></p> <p dir="ltr">Finally, they will look for you (a real estate agent), so they can go ahead with buying real estate.</p> <p dir="ltr"><img src="../../storage/photos/1/blog-5.3-new/different-search-queries-for-real-estate-topic.webp" alt="Different Search Queries for Real Estate Topic" width="1010" height="568"></p> <p dir="ltr">See what you gotta do?&nbsp;</p> <p dir="ltr">You need to map out a <strong>Search Journey</strong>&mdash;a roadmap that will help you better grasp what your potential customers' search <em>(and the language they use when they search)</em> at different stages.&nbsp;</p> <p dir="ltr">Then, use that knowledge to create contextual content that is truly relevant to the stage they are at in their search journey.</p> <p dir="ltr">And BAM&mdash;you've got yourself a terrific <a href="../../academy/seo-content-strategy" target="_blank" rel="noopener">content strategy</a>!</p> <p dir="ltr">Whether you&rsquo;re a veteran website owner with solid traffic or a newbie with a newly-forged blog, it's imperative that you know what search journeys are and how they can help refine your content strategies&mdash;both creation and marketing.</p> <h2 dir="ltr"><strong>Understanding Search Intent &mdash; How Do People Search?</strong></h2> <p dir="ltr"><a href="http://writerzen.net/blog/understanding-search-intent" target="_blank" rel="noopener">Search intent</a> basically sums up the purpose behind an online search. It's the main goal your user or audience has when typing a specific query into a search engine&mdash;which could either be informational, commercial, navigational, or transactional.</p> <p dir="ltr"><img src="../../storage/photos/1/blog-5.3-new/keyword-search-intent-types.webp" alt="Keyword Search Intent Types" width="1010" height="609"></p> <p dir="ltr">Plenty of website owners are sitting on exceptionally high-quality content that simply refuses to rank for their target keywords. Why? More often than not, it's because their keywords don't align with the user's intent. They forget that it's the humans, not search engine algorithms, that are the decision-makers.</p> <p dir="ltr">For instance, if users are searching for informational content on multivitamins, commercial results won't satisfy them. Or if they type in Uber in search, they are most likely looking for navigational details to the website, not learning about the company's history.</p> <p dir="ltr">Different searches also represent different stages of a user's journey online&mdash;and knowing which stage your audience is at brings you closer to your marketing goals.</p> <h3 dir="ltr"><strong>Google's Intent-Focused Search Journey Algorithm &mdash; How it Displays Relevant Results?&nbsp;</strong></h3> <p dir="ltr">From house hunting to smart watches, when users seek information, they typically begin their journey with a simple Google search&mdash;and Google&rsquo;s algorithm tries its best to provide satisfactory answers to queries people are searching for.&nbsp;</p> <p dir="ltr">As marketing models based on user intent and search journey have become prominent, Google completely <a href="https://www.blog.google/products/search/improving-search-next-20-years/" target="_blank" rel="nofollow noopener">rehashed its algorithm</a> in 2018 to better serve searchers.</p> <p dir="ltr">In order to gain better clarity on what users actually mean when they type in a query, it tries to determine the <em><a href="../../blog/keywords-are-useless-without-context" target="_blank" rel="noopener">context</a></em> and <em>intent</em> of the user and deliver relevant, high-quality information.</p> <p dir="ltr">This is done by analyzing their <strong>search history</strong>, figuring out where they are in their search journey, and the end goal they are trying to accomplish.</p> <p dir="ltr">Are they at the beginning of their research? Or are they already halfway there? Are they considering options? Or are they ready to make a decision?</p> <p dir="ltr">Google maintains something called <a href="https://www.blog.google/products/search/helping-you-along-your-search-journeys/" target="_blank" rel="nofollow noopener">activity cards</a> to track your search journey and allow you to resume tasks right from where you left off. It also provides helpful suggestions regarding what you can explore next. This helps refine search results based on your intent.</p> <p dir="ltr">Let's say you start off with a simple query: "<em>Why should I hire a personal trainer?"</em> A week later, when you type <em>&ldquo;fitness or personal trainer"</em> in Google Search, you are likely to find results related to your previous search activity. So, this would probably include recommendations for personal trainers or gyms near you rather than fitness certification programs you can enroll in <em>(...or other trifling, off-topic results you don't care about)</em>.</p> <p dir="ltr">Google uses Search Journeys &mdash; a technology similar to Google's Knowledge Graph, which explores how search intent evolves with time depending on where users are in their journey. This helps it provide highly relevant and tailored results.</p> <p dir="ltr">There's another factor that plays an important role in ascertaining <a href="../../blog/keyword-relevance" target="_blank" rel="noopener">relevance</a>&mdash;the <strong>time </strong>users spend on a website.</p> <p dir="ltr">Let's say you type in <em>"simple chicken wrap recipes"</em> and click on the first search result.</p> <p dir="ltr">You find out that the recipe requires a bunch of ingredients <em>(hardly "simple" to make)</em>, so you leave the site and open the next result&mdash;which requires fewer ingredients to cook and is closer to what you were looking for. Plus, you can get it ready in just 10 minutes.</p> <p dir="ltr"><img src="../../storage/photos/1/blog-5.3-new/comparing-two-search-results-of-simple-chicken-wrap-recipes.webp" alt="Comparing Two Search Results of Simple Chicken Wrap Recipes" width="1010" height="568"></p> <p dir="ltr">So, you get started with cooking right away <em>(bon appetit!)</em> and don't look any further &mdash; meaning you spend more time on that particular page.</p> <p dir="ltr">As per <a href="https://developers.google.com/search/updates/helpful-content-update" target="_blank" rel="nofollow noopener">Helpful Content Update</a> released by Google in August 2022, Google will acknowledge the second article for providing a more helpful and satisfactory answer to that specific search query and rank it higher in search results.</p> <p dir="ltr"><strong>What's the takeaway from this?</strong> Brands should aim at creating <a href="../../blog/human-centered-content" target="_blank" rel="noopener">people-first content</a> that provides "satisfactory" answers&mdash;such that users do not feel the need to visit another website for more information.</p> <p dir="ltr">But it can be tricky.</p> <p dir="ltr">The web is growing at an exponential rate. If you are wondering how much exactly, Statista predicts that a whopping <strong>181 zettabytes of data</strong> will be created, captured, copied, and consumed globally by 2025!</p> <p dir="ltr">This torrential amount of data, coupled with the plethora of Google and other search engines' sophisticated algorithms, can make it really complicated to serve up content that aligns with a user&rsquo;s needs.</p> <p dir="ltr">So what do you do?</p> <p dir="ltr">We've jotted down three tips to help you perfect your content strategy and provide contextual answers across a user's search journey to move the process along:</p> <h2 dir="ltr"><strong>3 Tips to Develop a Content Strategy Based on User Search Journey</strong></h2> <h3 dir="ltr"><strong>Matching Keywords to Search Intent</strong></h3> <p dir="ltr">By optimizing your keywords to user intent, you are better positioned to serve satisfactory content around each search.</p> <p dir="ltr">For example, if a user searches for "starbucks near heathrow airport", Google will display a list of Starbucks nearby&mdash;matching the search intent of the user&mdash;rather than serve a bunch of irrelevant details on the company's history, its headquarters in Seattle, its social media channels, blah blah.&nbsp;</p> <p dir="ltr"><img src="../../storage/photos/1/blog-5.3-new/result-for-starbucks-near-heathrow-airport.png" alt="Results for Starbucks Near Heathrow Airport" width="1010" height="539"></p> <p dir="ltr">By matching keywords to intent, you can rest assured that your content marketing efforts are drawing in relevant, conversion-ready traffic at every stage&mdash;whether it is informational content at the awareness stage or commercial content at the consideration stage.</p> <p dir="ltr">While there are endless reasons why users might search for something, there are four primary search intents, as mentioned previously. When researching keywords, you can go ahead and categorize them accordingly as follows:</p> <h4 dir="ltr"><strong>Informational</strong></h4> <p dir="ltr">Informational searches are most common in the initial problem or awareness stage&mdash;where users have a problem and are looking for information.</p> <p dir="ltr">In response, Google may turn up definitions, how-to guides, ebooks, rich results (direct answers that stand out from the blue links), and so on.</p> <p dir="ltr">For example,&nbsp;</p> <ul> <li dir="ltr" aria-level="1"> <p dir="ltr" role="presentation"><em>"What are the uses of an air fryer?"</em></p> </li> <li dir="ltr" style="font-style: italic;" aria-level="1"> <p dir="ltr" role="presentation"><em>"Quick steak recipes"</em></p> </li> <li dir="ltr" style="font-style: italic;" aria-level="1"> <p dir="ltr" role="presentation"><em>"What is a progressive lens?"</em></p> </li> <li dir="ltr" style="font-style: italic;" aria-level="1"> <p dir="ltr" role="presentation"><em>"What are the uses of an air fryer?"</em></p> </li> </ul> <p dir="ltr">While your customers are riddled with curiosity, your goal is to inform and educate them with informational content like blog posts, guides, listicles, etc.</p> <h4 dir="ltr"><strong>Navigational</strong></h4> <p dir="ltr">Navigational intent refers to terms or phrases searchers use to find a specific product or service. This is when they are in the consideration stage of their journey and are looking for more information to make a decision.</p> <p dir="ltr">For example,&nbsp;</p> <ul> <li dir="ltr" aria-level="1"> <p dir="ltr" role="presentation"><em>"Xyz multispecialty clinic reviews"</em></p> </li> <li dir="ltr" style="font-style: italic;" aria-level="1"> <p dir="ltr" role="presentation"><em>"Directions to xyz multispecialty clinic"</em></p> </li> <li dir="ltr" style="font-style: italic;" aria-level="1"> <p dir="ltr" role="presentation"><em>"Uber"</em></p> </li> <li dir="ltr" style="font-style: italic;" aria-level="1"> <p dir="ltr" role="presentation"><em>"Hotstar"</em></p> </li> <li dir="ltr" style="font-style: italic;" aria-level="1"> <p dir="ltr" role="presentation"><em>"Walmart"</em></p> </li> </ul> <p dir="ltr"><strong>ZenTip:</strong> Make sure your website readily shows up in results when users search for your company online.</p> <h4 dir="ltr"><strong>Commercial</strong></h4> <p dir="ltr">Before buyers are ready to make a purchase, they evaluate different brands or products in the market to figure out the best solution for them. They have probably even narrowed down their research to a few brands&mdash;and so, search terms might include brand names, specific products, etc.</p> <p dir="ltr">Commercial investigators also have transactional intent but are yet to be convinced.</p> <p dir="ltr">For example,</p> <ul> <li dir="ltr" aria-level="1"> <p dir="ltr" role="presentation"><em>"Best spa services near me"</em></p> </li> <li dir="ltr" style="font-style: italic;" aria-level="1"> <p dir="ltr" role="presentation"><em>"Best dentist in Kansas City"</em></p> </li> <li dir="ltr" style="font-style: italic;" aria-level="1"> <p dir="ltr" role="presentation"><em>"Apple Music vs Spotify"</em></p> </li> <li dir="ltr" style="font-style: italic;" aria-level="1"> <p dir="ltr" role="presentation"><em>"Which SEO tool is most useful?"</em></p> </li> <li dir="ltr" style="font-style: italic;" aria-level="1"> <p dir="ltr" role="presentation"><em>"Top Chinese restaurant in San Francisco"</em></p> </li> </ul> <p dir="ltr">This is your cue to offer helpful reviews, comparison blogs, case studies, etc., to avoid any last-minute back-outs.&nbsp;</p> <h4 dir="ltr"><strong>Transactional</strong></h4> <p dir="ltr">Transactional searchers have made a decision and are ready to go through with the purchase&mdash;whether it is to buy a product, subscribe to a service, enroll in a program, and so on. So, the terms or phrases you are looking at will be brand names or specific products.&nbsp;</p> <p dir="ltr">For example,</p> <ul> <li dir="ltr" aria-level="1"> <p dir="ltr" role="presentation"><em>"Buy iphone 13"</em></p> </li> <li dir="ltr" style="font-style: italic;" aria-level="1"> <p dir="ltr" role="presentation"><em>"H&amp;m winter sale"</em></p> </li> <li dir="ltr" style="font-style: italic;" aria-level="1"> <p dir="ltr" role="presentation"><em>"DKNY Be Delicious perfume"</em></p> </li> </ul> <p dir="ltr">You know what to do.</p> <p dir="ltr">So, are we clear on search intent? Let's move to the search journey.</p> <h3 dir="ltr"><strong>Crafting Content Based on Where Users Are in Their Search Journey</strong></h3> <p dir="ltr">There are three stages to the search journey: awareness, consideration, and decision.</p> <p dir="ltr">And as a content marketer, you need to provide helpful content at every stage&mdash;from when they discover they have a problem and start looking for solutions to making recommendations and making a purchase.</p> <p dir="ltr">Here are some tips for a better content strategy. We'll also suggest content formats that best align with respective stages.</p> <h4 dir="ltr"><strong>Awareness</strong></h4> <p dir="ltr">This is when users are aware they have a problem/pain point and are looking for solutions to overcome it.</p> <p dir="ltr">How do you capitalize on this? By informing and educating them.</p> <p dir="ltr">This stage is to selflessly provide value to your prospects and, in the process, give insight into your expertise and sow the seeds of a budding relationship with them.</p> <p dir="ltr">You will require in-depth research, customer surveys, 1:1 interactions, and <strong>a lot of</strong> common sense to figure out your audience's problem points.</p> <p dir="ltr">Once you have those, get to work!</p> <p dir="ltr">Start creating content around those problem areas&mdash;comprehensive blog posts, ultimate guides, listicles, email series, downloadable infographics, how-tos, and videos.</p> <p dir="ltr">For example,&nbsp;</p> <ul> <li dir="ltr" aria-level="1"> <p dir="ltr" role="presentation"><em>"When Should You Start Anti-Ageing Skincare?"</em></p> </li> <li dir="ltr" style="font-style: italic;" aria-level="1"> <p dir="ltr" role="presentation"><em>"5 Signs Your Laptop is About to Bite the Dust"</em></p> </li> <li dir="ltr" style="font-style: italic;" aria-level="1"> <p dir="ltr" role="presentation"><em>"How Do You Know If You Have Diabetes?"</em></p> </li> <li dir="ltr" style="font-style: italic;" aria-level="1"> <p dir="ltr" role="presentation"><em>"Ultimate Guide to Make a WordPress Website in 2022"</em></p> </li> </ul> <h4 dir="ltr"><strong>Consideration</strong></h4> <p dir="ltr">When your potential buyers move to the consideration stage, they have sufficient knowledge of the solutions out there&mdash;and while they aren't ready to take the plunge just yet, they are considering options.</p> <p dir="ltr">They'll also be looking to deepen their understanding of the subject so as to make an informed decision.&nbsp;</p> <p dir="ltr">Here's your opportunity to serve up authoritative case studies, value-adding e-books, FAQs, product reviews, comparison content, cheatsheets, etc., to steer them in the right direction.&nbsp;</p> <p dir="ltr">Plugin your brand with its range of benefits and inform them how it is the best solution for their problem.</p> <p dir="ltr">For example,&nbsp;</p> <ul> <li dir="ltr" aria-level="1"> <p dir="ltr" role="presentation"><em>"6 Tips to Choose the Right Career For You"</em></p> </li> <li dir="ltr" style="font-style: italic;" aria-level="1"> <p dir="ltr" role="presentation"><em>"What to Look For When Buying Term Insurance for the First Time?"</em></p> </li> <li dir="ltr" style="font-style: italic;" aria-level="1"> <p dir="ltr" role="presentation"><em>"A Review of the Online Digital Marketing Course by XYZ"</em></p> </li> </ul> <h4 dir="ltr"><strong>Decision</strong></h4> <p dir="ltr">At this stage, your prospect is about convinced so-and-so's solution is the answer to their problem. All that's left to do is purchase the product or service.</p> <p dir="ltr">A little reassurance from you can go a long way in nudging them toward a purchase.</p> <p dir="ltr">Publish brand-specific content that talks about the unique features of your product and how it can add value to their life.&nbsp;</p> <p dir="ltr">Here, case studies, reports, whitepapers, reviews, comparison videos, testimonials, product demos, free trials, etc., is the way to go.</p> <p dir="ltr">For example,&nbsp;</p> <ul> <li dir="ltr" aria-level="1"> <p dir="ltr" role="presentation"><em>"Here's Why CopyScape is the Best Plagiarism Tool For You"</em></p> </li> <li dir="ltr" style="font-style: italic;" aria-level="1"> <p dir="ltr" role="presentation"><em>"Moz Review: Best SEO Tool For Site Owners"</em></p> </li> <li dir="ltr" style="font-style: italic;" aria-level="1"> <p dir="ltr" role="presentation"><em>"Gold's Gym vs Snap Fitness"</em></p> </li> <li dir="ltr" style="font-style: italic;" aria-level="1"> <p dir="ltr" role="presentation"><em>"Wix: Features, Pricing, Pro and Cons"</em></p> </li> </ul> <p dir="ltr">Well, that's about it! Beyond this, it's all <a href="../../academy/how-google-search-engine-works" target="_blank" rel="noopener">Google</a>.</p> <p dir="ltr">Once you've mapped the search journey and created content for every step of the way, leave it to Google to do its job!</p> <p dir="ltr"><strong>ZenTip:</strong> As you're serving up contextual information at every stage, make sure to leverage the opportunity to establish yourself as an authoritative source of information in front of your audience.</p> <h3 dir="ltr"><strong>Leveraging Google's Search Features for Maximum Search Demand</strong></h3> <p dir="ltr">Google's plethora of search features give you the opportunity to present relevant content to your prospect right when they need it most.</p> <p dir="ltr">Remember how we discussed that Google keeps a record of the user&rsquo;s search history and also tracks the time they spend on each site?</p> <p dir="ltr">Every time you search for something and return to search some more on the subject, Google resumes the search right where you left off.</p> <p dir="ltr">So, with the right content mix, you know it will deliver appropriate results at the right time and help you nurture your leads.</p> <p dir="ltr">Additionally, you can take advantage of features like Google My Business, Rich Results, Featured Snippets to make Google work in your favor.</p> <p dir="ltr">Take the Google My Business feature for instance&mdash;it works such that any time a prospect types the query "&lt;business/product or service&gt; near me", it will show your business both on the search engine and Google Maps.</p> <p dir="ltr">For instance, <em>"pizza hut near me"</em> or <em>"sephora near me"</em></p> <p dir="ltr"><img src="../../storage/photos/1/blog-5.3-new/search-results-for-pizza-hut-near-me.webp" alt="Search Results for Pizza Hut Near Me" width="1010" height="564"></p> <p dir="ltr">Your listing's rank will depend on how thorough and authoritative your business profile is.</p> <p dir="ltr">Similarly, the featured snippets that appear above the searched results, automatically put you on the top spot.</p> <p dir="ltr"><img src="../../storage/photos/1/blog-5.3-new/featured-snippets-on-serps.webp" alt="Featured Snippets on SERPs" width="1010" height="485"></p> <p dir="ltr">There can be only one featured snippet for every search&mdash;and it goes to the article that provides the most definitive answer to a search query.</p> <p dir="ltr">Then, there are <a href="../../academy/schema-markup-rich-snippets" target="_blank" rel="noopener">rich results</a> that again appear on the top of the search results and stand out with their interactive or visual features.</p> <p dir="ltr"><img src="../../storage/photos/1/blog-5.3-new/rich-snippets-on-serps.webp" alt="Rich Snippets on SERPs" width="1010" height="893"></p> <p dir="ltr">Other useful features you can capitalize on are Paid Search, Google Ads, Local Listings, and Zero Click Searches.</p> <h2 dir="ltr"><strong>Over to You</strong></h2> <p dir="ltr">No SEO tactics or backlinks&mdash;all you need is a content strategy founded on a deep understanding of the search journey to capture demand.&nbsp;</p> <p dir="ltr">With that knowledge, you can align your content creation and marketing efforts to attract relevant, conversion-ready leads and set yourself up for success!</p> <p dir="ltr">Sounds good? Get to work right away!</p>
WriterZen
Content SEO Software Company
Tags:
Search Journey
Digital Marketing
SEO Marketing
Maybe
you're interested in...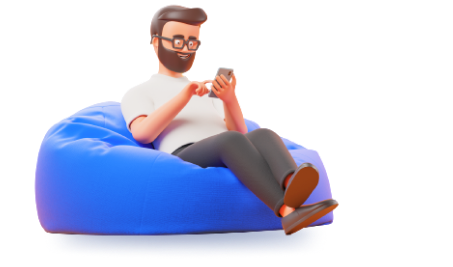 SEO Strategy
Utilizing a pillar page will benefit your website, even beyond what you expect. Read this article to learn about about pillar pages and how to build one.
Apr 05
WriterZen
SEO Strategy
Capturing organic search demand on the internet is no cakewalk. Doing that without breaking the bank is another story. Check out this article to find out how!
Apr 01
WriterZen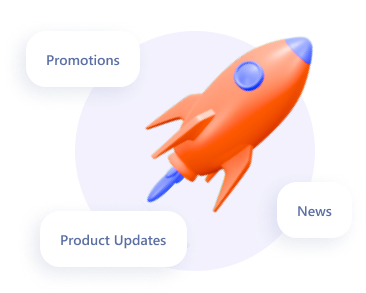 Get the latest content delivered straight to your inbox!
Subscribe to get our best content in your inbox. One post at a time. No spam, ever!