From displaying hoardings in high-traffic areas to publishing authoritative content on Google SERPs, marketing has evolved remarkably over the last few decades.
Businesses have gone from simply informing people about their products to engaging in a complex web of interactions with their audience to drive high-quality, conversion-ready traffic to their products.
Yep, capturing organic search demand on the internet is no cakewalk.
You have to work on a multitude of factors to present your product/service in the best light—and there is no one-size-fits-all SEO strategy that will get you there.
You need to optimise your content (time and again) to match your target audience's search intent and cater to them across their customer journey.
But how do you drive organic search demand without breaking the bank?
To begin with, let's understand what organic search demand means.
What is Organic Search Demand?
It's simple. Organic search is what users worldwide search for on search engines and consume content brands don't pay to rank for.
For example, if you're looking for "best chairs for work from home" in the Google search box, the results will appear something like this: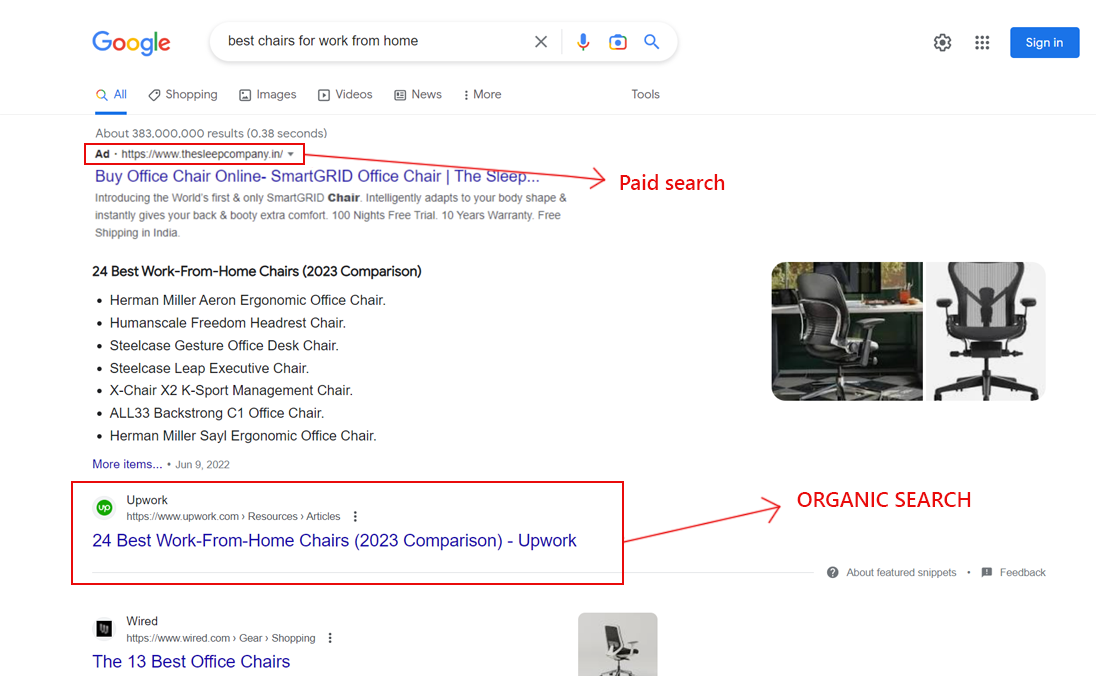 Google keeps updating its search algorithm based on a variety of factors to best serve its users. The idea is to determine which website, blog, or URL best fits a particular user's needs.
But not all factors have an equal say.
For ranking high on Google SERPs for a particular search demand, factors like the user's search intent, quality, context, usability, and relevance of the content play an important role.

The deeper you dive into search algorithms, you are bound to get confused.
So, here's simplifying it for you. In the next sections, we will discuss how businesses can optimise their websites in keeping with Google's invaluable SEO ranking factors so you can target user intent organically without spending a fortune.
We shall start with identifying the right keywords for your content and then understand how you can frame original, authoritative content around your target user's search intent.
How To Improve Organic Search Demand Without Exceeding Your Budget?
When optimising content for organic search demand, three things matter the most:
Planning your content around search intent,

Publishing relevant, original, and informative content,

Improving your website's user experience.
Let's start with search intent.
Kick Out The Keyword Search Volume, Bring In The Intent
In most cases, there exist three types of scenarios:
When you're just starting out from scratch with your content strategy,

When you're already ranking for some target keywords and want more traffic,

When you're missing out on the relevant target keywords in your content.
In all of the above, effective keyword research is paramount. But that's not all.
The problem is that you're only thinking about the high-volume target keywords in your competitor's ranking list. If you frame your content just based on this mindset, you won't get the desired search demand with those keywords.
So, forget the keywords for a sec and focus on the search intent. Obsessing over high-volume keywords, which are mere signals, is not really the right way to go.
This is not to say you shouldn't optimise your content for those target keywords, but you are unlikely to provide satisfactory answers unless you understand your target audience's why, what, and how behind those signals.
Let's say you have a detailed blog on a mouth-watering pasta recipe, and you target the keyword "quick pasta recipes" like your competitors are doing.
However, when a user searches for "quick pasta recipes" on Google—which of the following links are they likely to open?
Clearly, it will be the first link which takes the least cooking time of 15 minutes. Why? The user's intent is time ("quick"), not reviews or otherwise.
So, if you were targeting the "quick pasta recipe" keyword, you would likely get the least clicks even after ranking on top of top search results since you didn't concern yourself with the meaning behind that keyword in the first place.
Now, the question is how to find the right keywords for your search intent.
The easiest and cheapest trick to find the right keywords for a specific user search intent is by using Google search engine results itself.
For example, if you are targeting the search intent "buying online groceries," type it in the Google search box and take a look at the top organic search results displayed for the query.
You will also find a bunch of useful keywords under the "related searches" and "people also ask" sections of the search results page.
Makes sense, right?
But there's a catch—this method can fetch you a limited number of suitable keywords only. Plus, you can't find other relevant data around these keywords like search volume, traffic, CPC, competitors ranking for those keywords, etc.
So, the best option to identify the right keywords for targeted search intent is through a free keyword research tool like Google Keyword Planner or WriterZen Keyword Explorer.
Let's take an example where you want to look for all the keywords related to the "online groceries" search intent.
Note: This intent is local-oriented since users only buy groceries from their locality.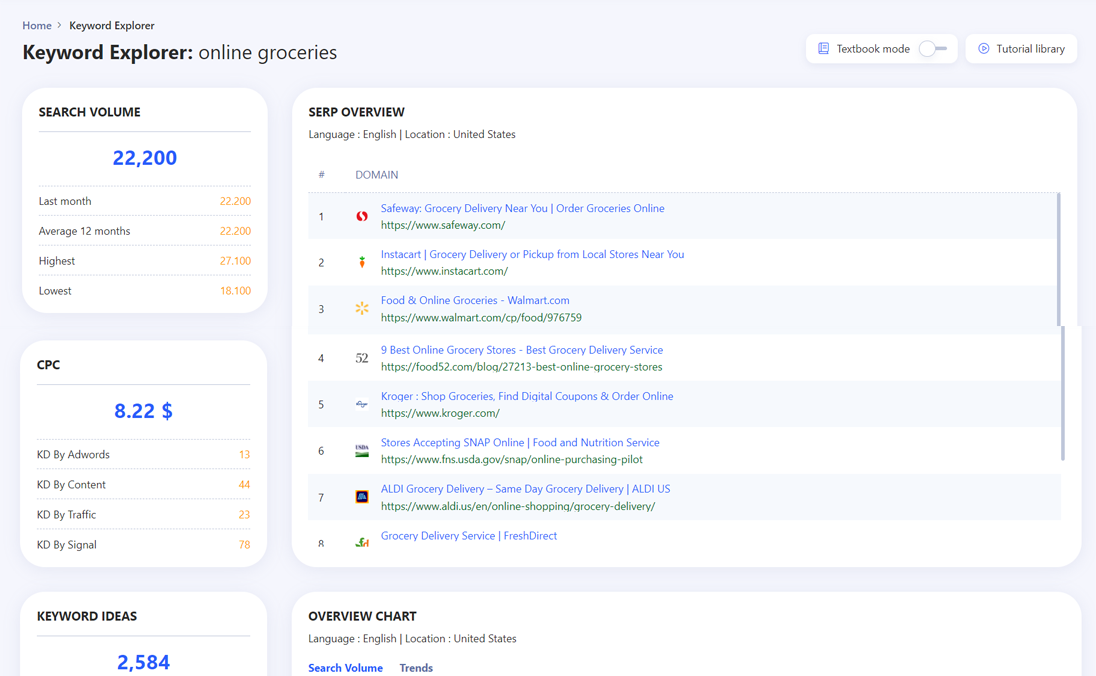 Now, you have detailed information on the target keywords — search volume, CPC, top-ranking websites, etc.
Further, you can explore niche-specific keyword insights into why and how users are querying Google search boxes for grocery shopping.
How? By selecting the "grocery delivery service" keyword suggestion.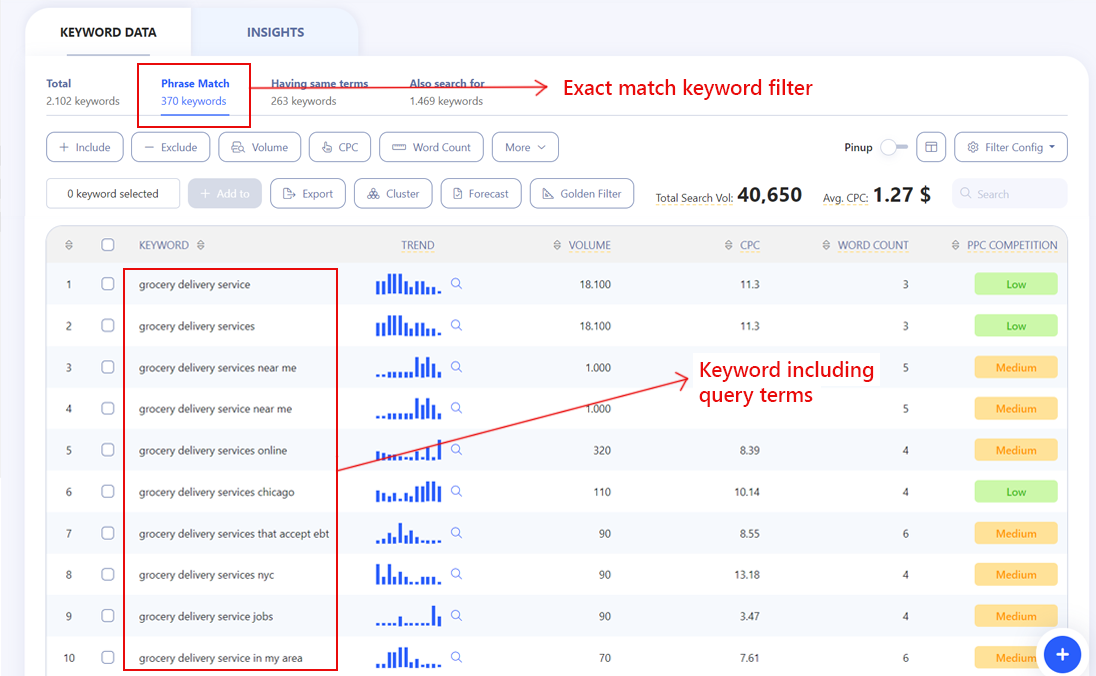 A free keyword research tool can help you find keywords of a range of search volumes, with other refining options like query terms, etc.
You can also exclude negative keywords you don't want to target for your search intent.
For example, if you don't want to target "jobs" or "Walmart" keywords, you can use advanced filters to exclude those words from your results.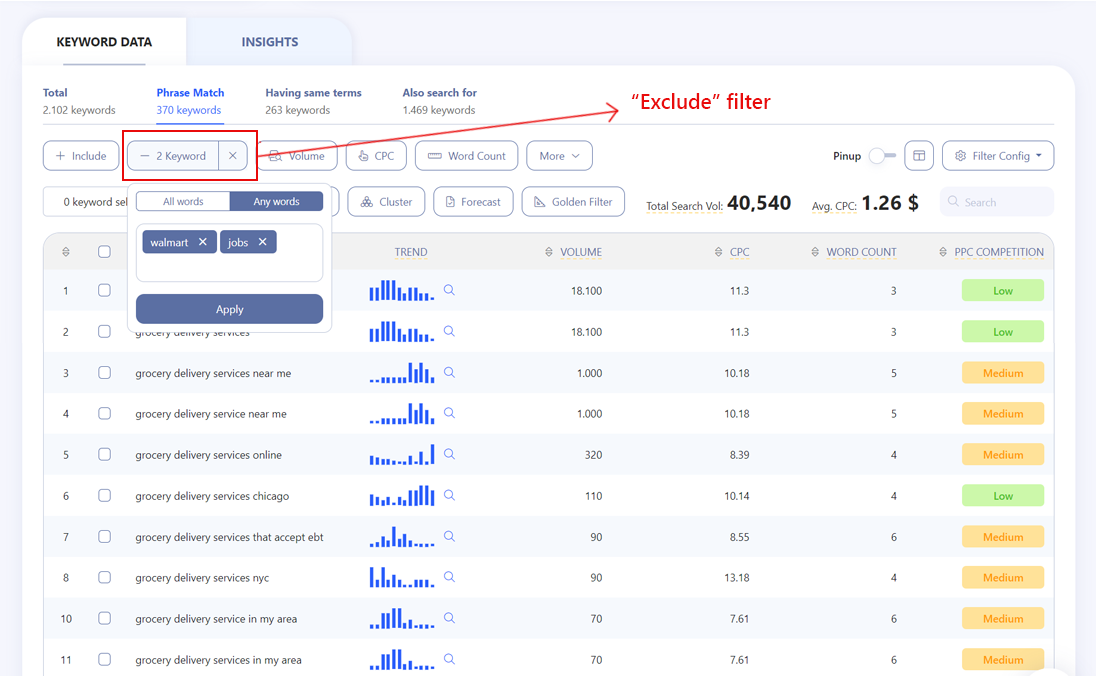 Now that you have found an efficient and economical way to hunt high-quality, relevant, and low-on-competition keywords using the keyword explorer tool, let's jump to how you can use these keywords to create search-demand-oriented content.
Design Original, Intent-focused Content
The key to creating organic search demand-focused content is to deliver "user-centric" content.
You must remember that it's not Google that improves your website's organic traffic but the users. Google search engine merely acts as a medium between the server (you) and one that is served (the user), ensuring the quality and relevance of the service exchanged.
For example, let's say two websites publish the same article in the same year: "How to get high-quality backlinks from authority websites?"
One website gets higher organic traffic than the other, but both are still ranking on the first page of Google search results. Here are a few reasons why this may be:
Tactical optimization of meta descriptions and meta titles

The authoritative quality of the content

Use of well-structured, more readable font styles and formats

The date of updation; the newer, the better
While past authority and backlinks also play a significant role in gaining organic traffic for future blogs, maintaining the quality of the content is pivotal.
That's why it is important to build content clusters around your topics, answering all the informative queries of the user, which will eventually drive organic search demand.
Create User-Centric Content with Topic Clusters
Topic clusters are defined as a group of related content topics which cover a broad subject matter across all the dimensions of a user's search intent.
It represents a hub-and-spoke structure, where a pillar page branches out into cluster pages, which are connected through hyperlinks with each other. Also, it combines all these pages in a group by providing contextual support and a robust internal linking structure to the website.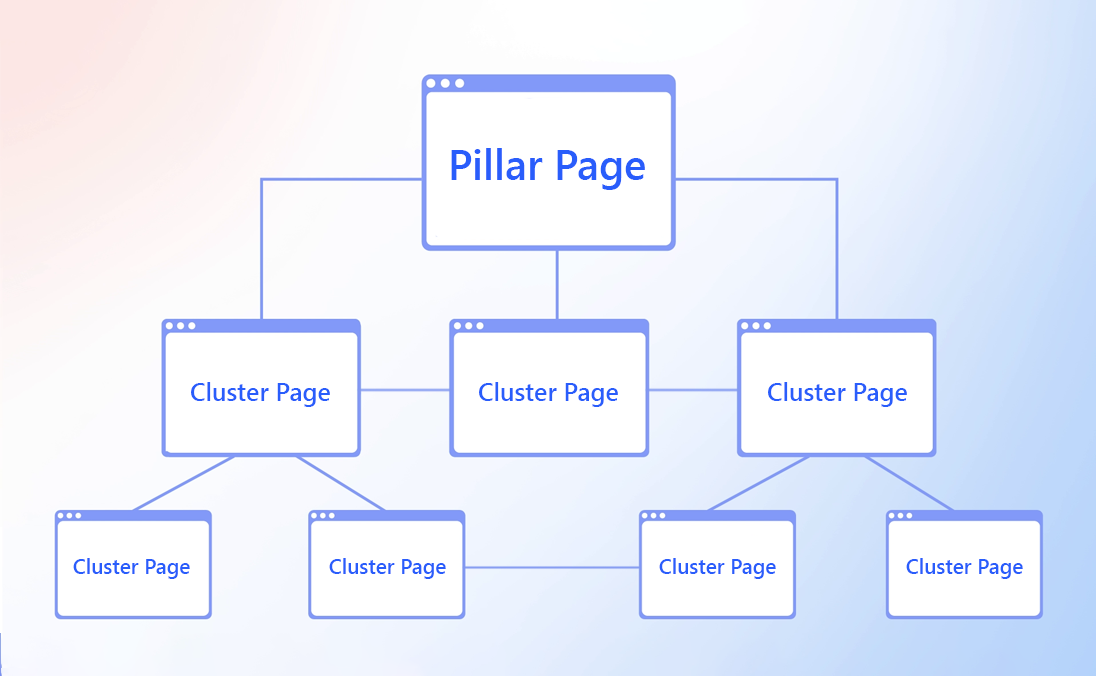 You might be confused about how you can optimise topic clusters to tap into the organic search demand of your user's niche interests. Well, don't worry!
There is an excellent SEO tool called WriterZen Topic Discovery which can help you explore topic discovery for preparing topic clusters for the targeted keywords, which attend to most user search intents.
For example, you want to target fintech industry content topics around the search intent "mobile banking service."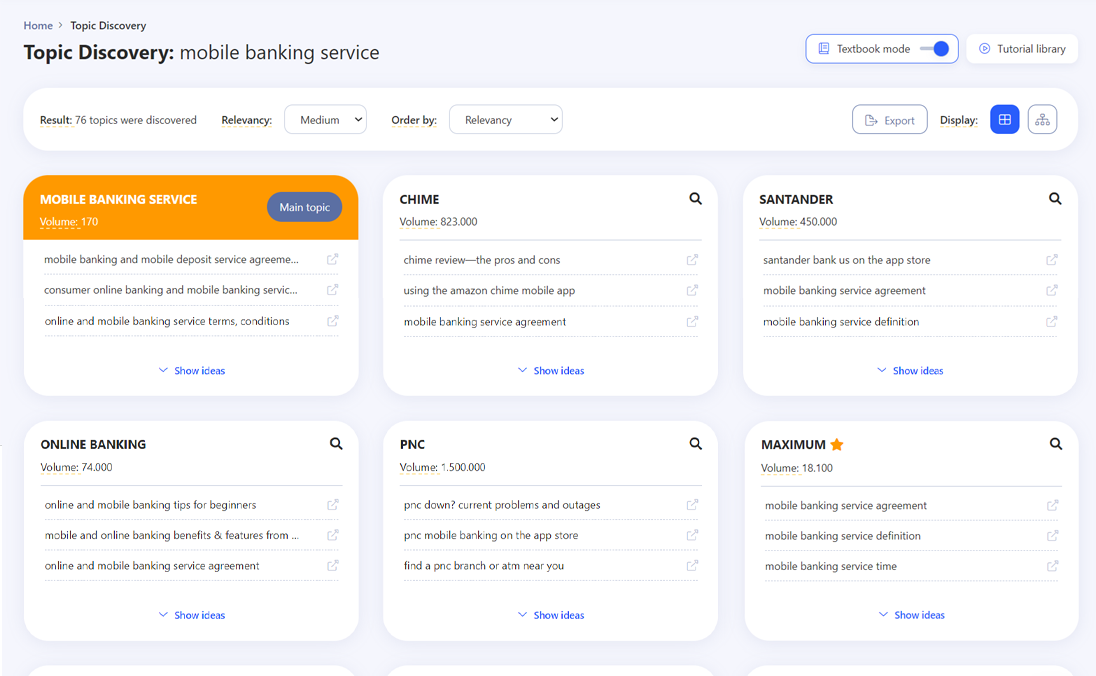 Here, the sub-topics like credit cards, phone numbers, and checking accounts lead to different topic ideas and their search volume and insights.
As you navigate further, you will find more headlines, question format topics, and related searches—all of which can be included in your topic clusters.
Simple enough?
Now that you have all the required keywords and content topic clusters, it's time to understand how to write the content.
High-Quality Content Production
Whenever you Google an intent or query, do you blindly click on the top-most search result or do you explore and find the one which you find most useful?
Exactly!
And how does one determine which article is more useful?
That's simple. We do this every day.
Read the headline or title of the URLs,

Read their meta descriptions,

Look at their date of publication - the newer, the better.
This indicates the importance of consistent content quality and its regular optimization to ensure you are providing value and, thus, attracting organic search demand. Quality content production is as crucial as building a content strategy.
Here are a few tips on how brands can create relevant, high-quality content and optimize it for maximum value:
Add a meta description which incorporates key phrases that have the highest user search intent volume,

Include relevant anchor links for relevant anchor texts,

Include examples, a step-by-step approach, and precise and workable information in your articles. It will increase the usability of your content,

Include alt texts for all of your images,

Ensure readability — let headings be bigger in size, and use a simplistic font style.
Sounds doable?
Let's move to the overall SEO of your website.
Improve Organic Search Demand Aside from SEO Optimization
Now that we know how to tap into organic search demand in different economical ways, it's time to look into some zero-cost hacks to maintain organic search demand and decrease bounce rate or pogo-sticking.
Ensure your landing page loads within 3 seconds of clicking the website URL in Google SERPs. One way to do this is minimising the page size by cutting down images or videos and their dimensions,

Optimise your website for use on mobile devices—59% of organic traffic comes from mobile devices, excluding tablets,

Improve your website's user experience; work on the navigation structure, icon sizes, keep your contact information updated, make relevant information readily available, and more.
Key Takeaways
Here's what we've learned so far:
With the help of free keyword explorer tools, you can find different high-volume keywords - short-tail, medium-tail, and long-tail keywords for a particular user search intent,
It's important to craft organic search-centric content by focusing on user search intent,

You can leverage SEO best practices to create original, error-free, relevant, and informative content with examples and case studies to help users find solutions to their search queries,

Tweaking your website to make it more user-friendly can drive organic search demand and elevate user experience.
So, those were our tried-and-true, cost-saving tips to generate that much-needed organic search demand for your website for once and all. Don't hesitate to reach out if you need our help in executing them!