Local SEO (Search Engine Optimization) is an essential component of digital marketing for companies that rely on clients in their area.
Businesses can improve their visibility in location-based searches, reach new customers in their area, and grow their business by optimizing their online presence for local search.
In this blog post, we will talk about local search, explain why it is vital, and give practical tips for improving your local SEO strategy.
What Is Local Search?
Local search, also known as local SEO, is the process of improving a company's online presence in order to increase its visibility in location-based search results.
It involves optimizing a company's website, Google My Business listing, online directories, and other online platforms for it to appear in local search results.
Local search is especially important for businesses that cater to local clients, such as restaurants, stores, and service providers. It helps companies to appear in these location-based search results, increasing their visibility and reach to potential customers in their area.
For example, if a user searches for a specific type of restaurant, Google will show them results for restaurants closest to their location.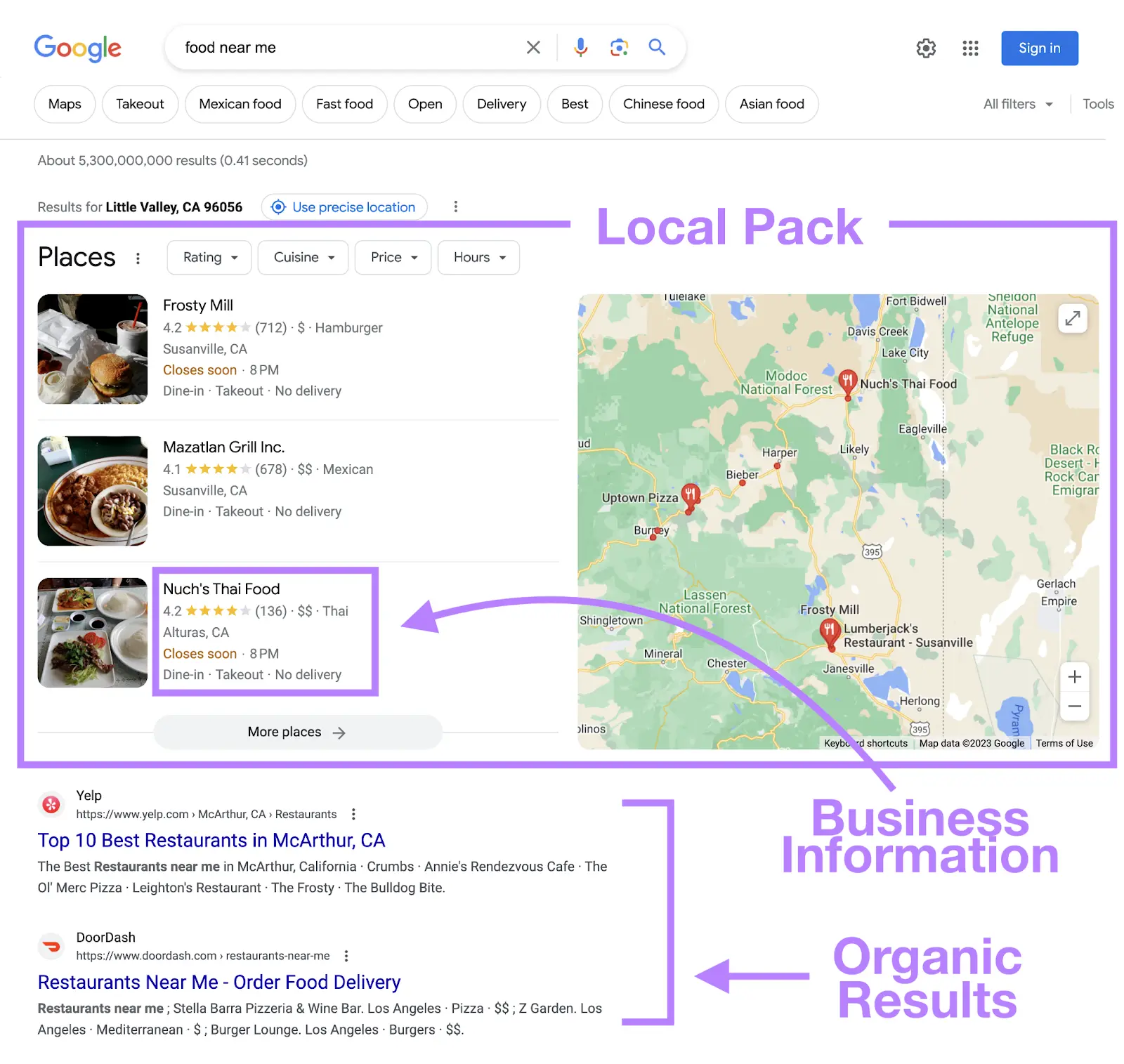 Source: Semrush
Why Is Local Search Important?
Businesses that rely on clients in the immediate area, such as retailers, restaurants, and service providers, must prioritize local search by ensuring that when people search for things in your neighborhood, they may find your business online.
According to Google, 46% of all searches are to seek local information.
If customers find you through a local search, they are more likely to visit the business if it is nearby. As a result, having a strong local SEO strategy can help you attract more clients and expand your business, bringing a major source of leads, sales, and foot traffic for your brand.
Even if you're already focusing on organic SEO, it's worth taking the time to improve your local visibility. After all, the people nearby are your potential customers, and you don't want to miss the chance to catch their eye.
Tips for Better Local SEO Strategy
Optimize Your Google My Business Listing
To optimize your Google My Business (GMB) profile, make sure to fully complete all the fields, including business name, address, phone number, website URL, business hours, and photos.
Making sure your GMB information is up to date helps Google understand your business and improve its chances of appearing in local search results.
Encouraging customers to leave reviews on your profile is also a great way to help improve your local search visibility.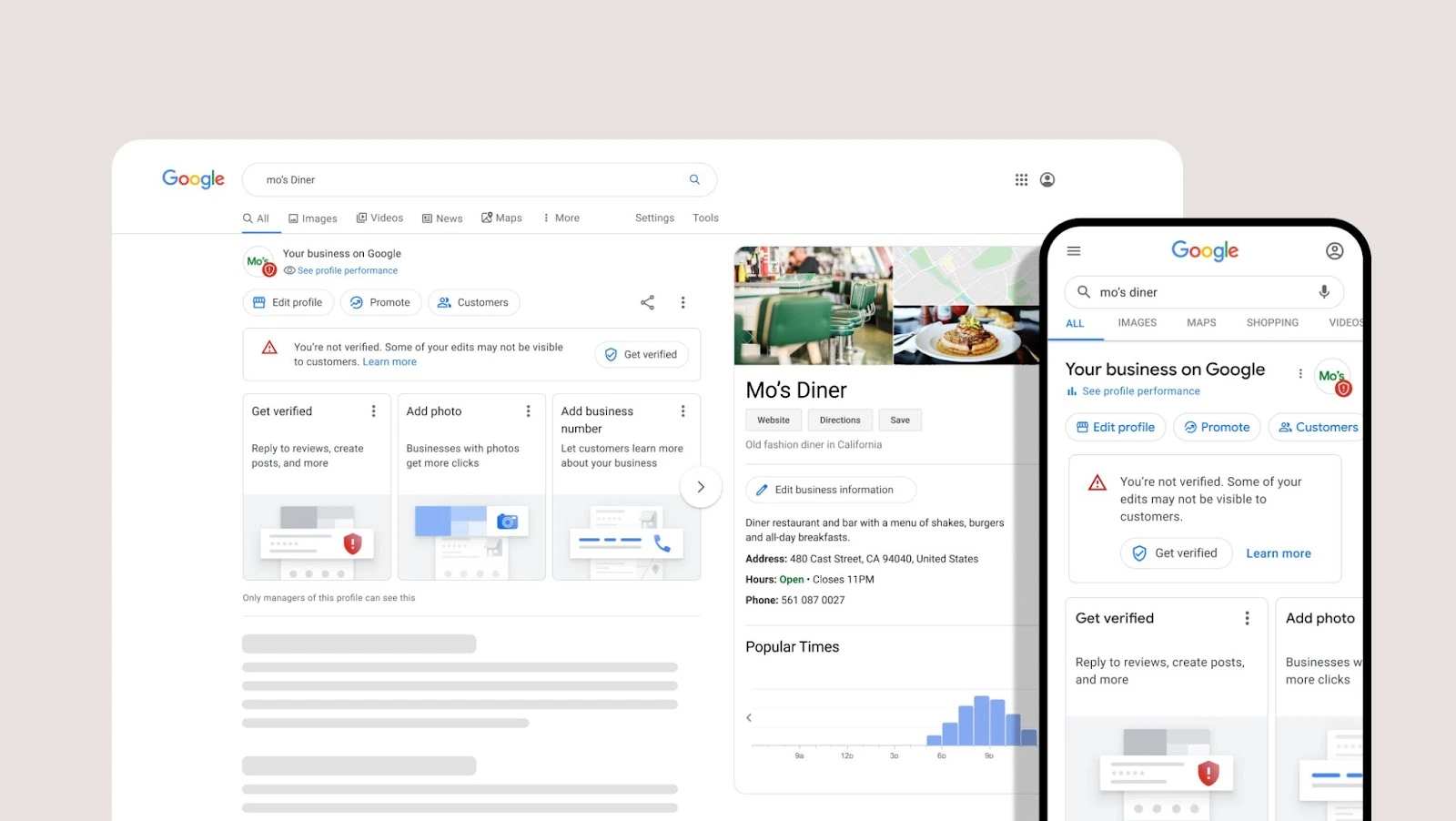 Source: Google Business Profile Help
Use Local Keywords
Doing local keyword research is critical when it comes to optimizing your site for local search.
Use relevant local keywords in the copy and alt text of graphics, meta tags, and headings of your website. To improve your likelihood of appearing in local search results, use location-specific keywords and key phrases such as your city or area.
Tools like Google Keyword Planner or WriterZen's keyword tool can help you quickly find the right keywords for your business.
Optimize Your Website for Local On-Page SEO
Local on-page SEO is the process of optimizing the website's content for local search. Make sure to include your business's name, address, and phone number on each page of your website.
If your business has multiple locations, use location-specific landing pages for each one.
Include schema markup, which is code added to a webpage that helps search engines understand the content and context of each page on your website to assist search engines in better understanding your business and boost its chances of appearing in local search results.
Leverage Online Directories
Register and optimize your business listings on well-known web directories like Yelp, Yellow Pages, and TripAdvisor.
Ensure that your company's information is accurate and consistent across all directories to maximize your local search visibility and chances of showing in local search results.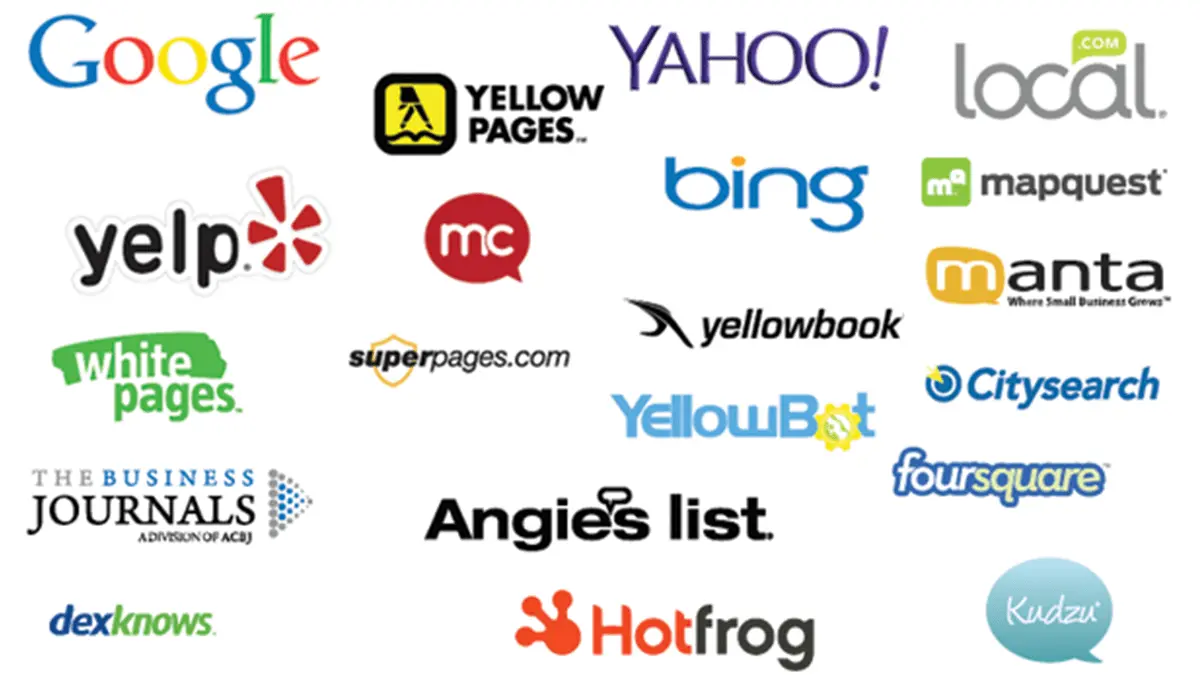 Source: VerticalResponse
Make Sure Your Site Is Optimized for Mobile
Mobile optimization is essential for local SEO since many consumers look for local companies on mobile devices, and search engines give preference to websites that are mobile-friendly in local search results.
With mobile devices accounting for more than half of all searches, it's critical to have a website that is mobile-friendly, loads quickly, and is easy to navigate. You can use tools like Google's Mobile-Friendly Test to make sure your site gives a great mobile user experience.
Measure and Monitor Your Progress
Constantly monitoring and measuring your local SEO progress is critical to improving your local search visibility over time.
Use tools like Google Analytics and Google Search Console to monitor your website traffic, local search visibility, and other key metrics, and use the data to identify areas for improvement and refine your local SEO strategy over time.
Final Thoughts
Local SEO is a must-have for any business to attract local customers and, in turn, expand their business. By understanding how local search works and following the tips outlined in this article, you can improve your business's online visibility, reach potential customers in your area, and stand out from your competitors.
So, if you're looking to take your business's digital marketing to the next level, be sure to check out other articles on the WriterZen Blog page. We have a wealth of resources and tips to help you succeed in the competitive world of digital marketing and SEO.