Scale your digital agency with
WriterZen.
Automate keyword research and scale your content output with a powerful, all-in-one SEO solution.
Seeking to enhance your agency productivity, but running into roadblocks?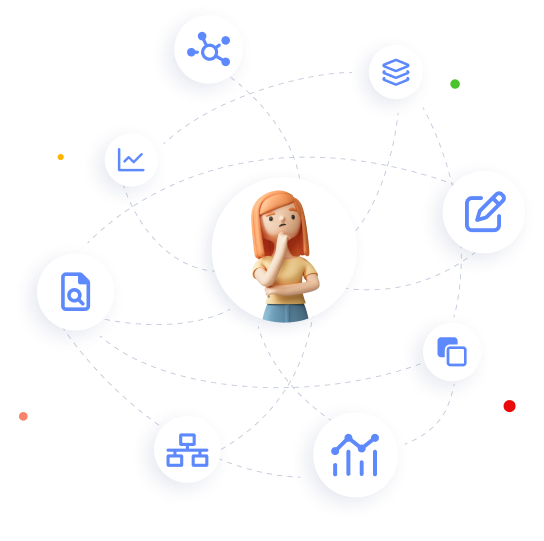 Struggle with scaling up content production?
Spending hundreds of hours on keyword research?
Overwhelmed with keeping track of writers?
Juggling 5 different SEO tools in your browser?
What you need is a single platform to consolidate your workflow, scale quality content, and manage your writers.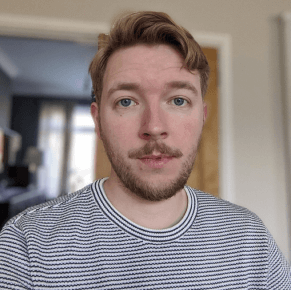 "WriterZen helped MediaCom eliminate the heavy burden of manual work while having
every state-of-the-art
feature they needed on one platform."
George Robertson
SEO Strategy Associate Director | MediaCom
How WriterZen
scales your SEO services
Take A Quick Tour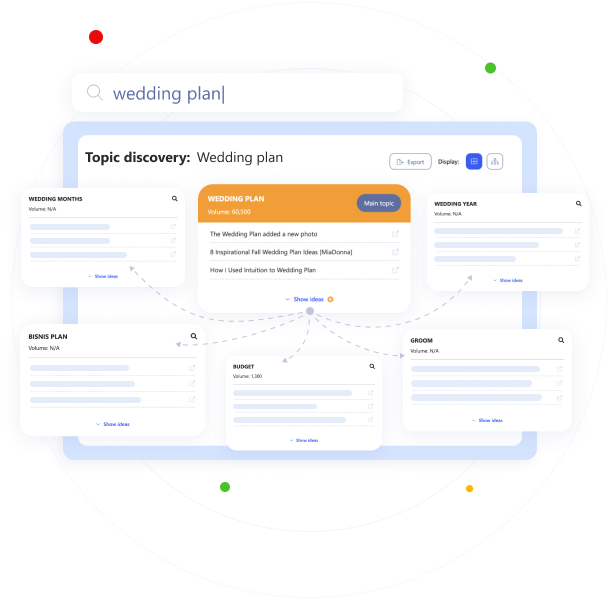 1.
Hundreds of topics

, organized

Find engaging content ideas and discover new topics in a few clicks. Instantly present connected topics and briefs to your clients that hits customer search intent for Page 1 SERPs.

Watch a demo
2. Done-for-you
content strategy

in a few clicks

There's a better way than to spend days poring over Google and keyword tools data looking for content ideas.

WriterZen automatically clusters your topics, identify content gaps, and store hundreds of headlines for a winning content strategy.

Watch a demo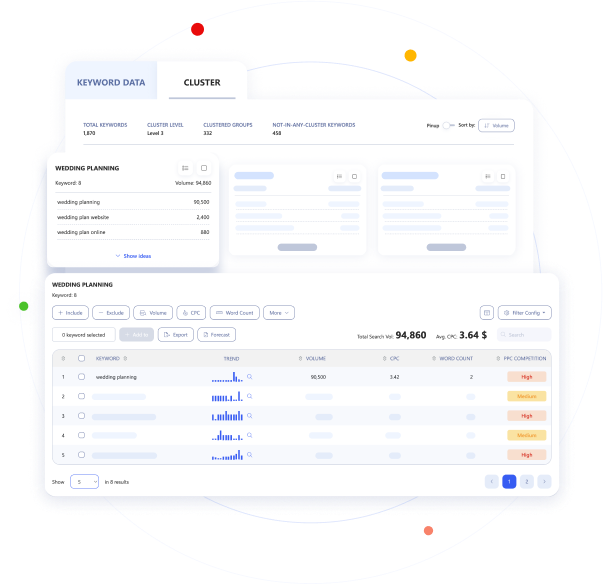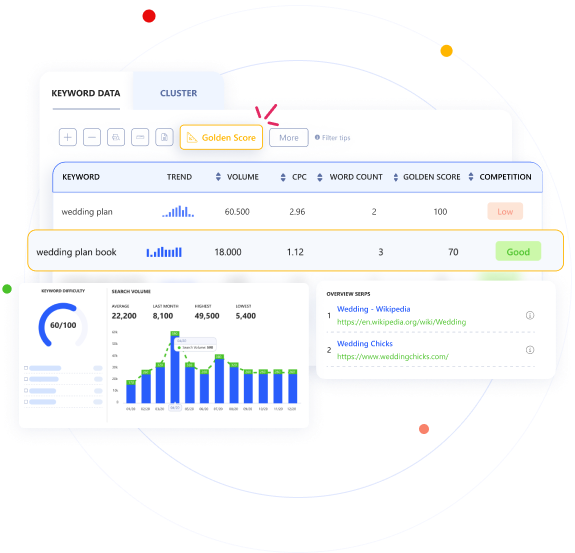 3. Hit
winning keywords

every time

Our proprietary "Golden Scores" identifies the most profitable keywords that you have a high probability to rank for with a proven algorithm. Effortlessly uncover keywords that are low in competition without hours of research.

Watch a demo
4. Create
world-class content

with GPT-3

Generate content outlines, unique titles, and descriptions in a few clicks. Our 60+ pre-built AI templates offer a universe of content ideas, all optimized with competitor intel to match search intent.

Watch a demo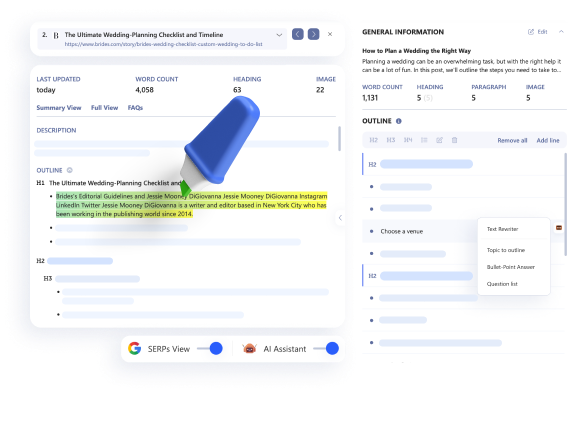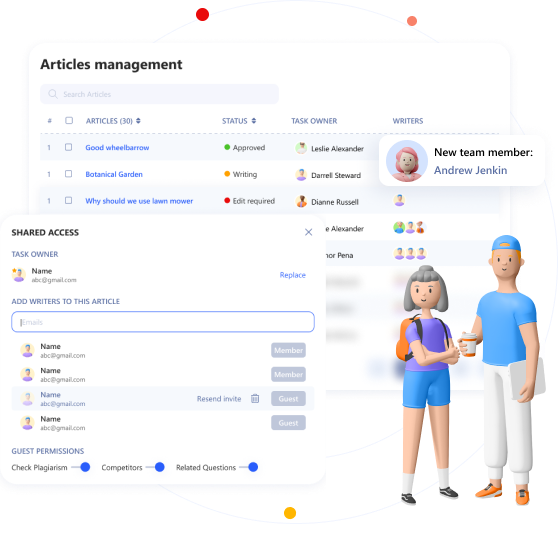 5. Scale your
writing team
Collaborate with other team members and freelance writers in real-time. With WriterZen's team function, you can organize your writers, assign projects, and collaborate articles all on one platform without giving away your login credentials.
Watch a demo
An
end-to-end workflow

to scale your SEO content services

Take A Quick Tour


Why digital agencies love WriterZen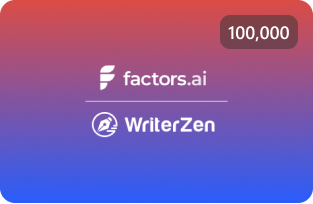 Keywords analyzed in seconds, everyday
Factors.ai unlocks an all-in-one SEO solution that caters to core requirements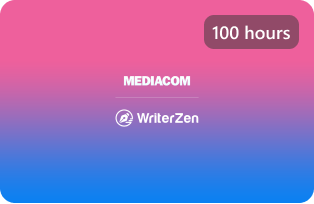 Saved per month on topic clustering
It literally saves us 100 of hours per month using the Topic Clustering model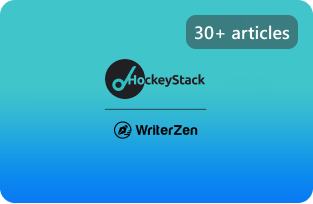 Produced every month using WriterZen
How HockeyStack Uses WriterZen to Produce Upward of 20 Articles a Month
But wait, there's more
Easy to Use
Clean and intuitive interface to help you stay focused on researching, planning and writing.
Plagiarism Checker
Avoid Google penalties with a built-in plagiarism checker. Measure your content's uniqueness against Google's database of billions of web pages.
World-Class Editor
Never go wrong with a content scoring metric that picks trends, patterns and provides real-time SEO analysis.
Workflow-Centric
Consolidate and guided step-by-step help inside the tool to drive productivity and remove bottlenecks.
Easy Onboarding
A library of knowledge for beginner, professional, and expert levels to help you drive Google rankings with our tools.
Stellar Customer Support
Built by a team of innovative and driven experts who create new features, daily updates, and unique creations and are always available to help.
Loved by people, recognized by experts.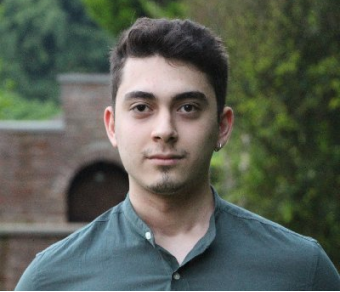 "WriterZen allowed us to have
a single place for everything related to SEO
, including optimization and outlines. We can now create an upward of 20 articles a month!"
Amir Atli
Co-founder & CRO | HoneyStack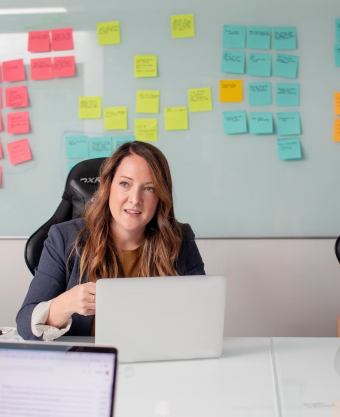 "We took up WriterZen's Keyword Explorer Toolkit for out projects and saw a steep rise in our performance graph within one month.
The ESKP helped us judge our profits from beforehand, while the Allintitle but high search volume keywords.
It saved our time and effort to dedicate mostly to creating quality content for the website. "
Young Liu
Founder & CEO | Leader Web Design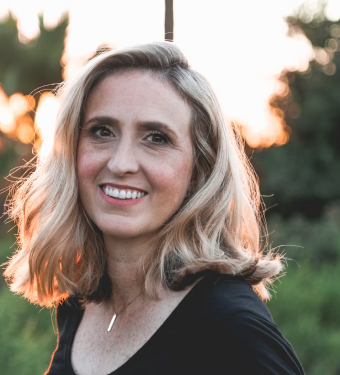 "WriterZen does all the heavy lifting for you to create great, unique content. It helps you find topic ideas and write them in a way that will help your SEO rankings.
Start with a keyword or phrase relevant to your industry and let WriterZen show you the best content opportunities.
"
Nattaliia I.
Content Manager
Schedule your personalized demo
Request A Demo
Grow your digital agency with WriterZen
Spend more time on driving value for your clients, and less time on manual SEO tasks with our consolidated workflow platform.
Request A Demo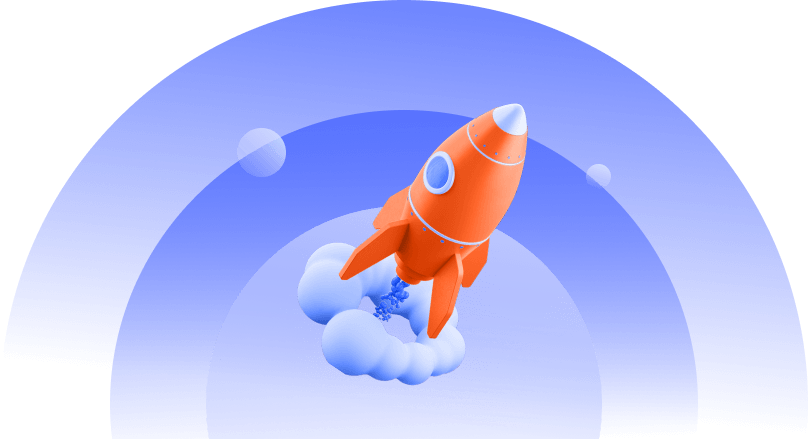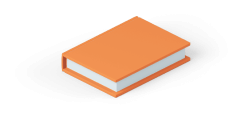 You've got questions.
We've got answers
Does WriterZen offer any consulting or advisory services to help me improve my SEO efforts?
For business accounts, WriterZen provides monthly or quarterly account review meetings conducted by our account manager. During these meetings, businesses can receive analysis and consultation on how to utilize WriterZen effectively to enhance their SEO productivity.
What kind of training and resources does WriterZen provide to help businesses get the most out of its SEO software?
WriterZen provides various training and resources to help businesses get the most out of its SEO software. Some of these resources include:
Customer support: WriterZen's customer support team is available to provide assistance via email or chat. They can answer any questions businesses may have about using the software and provide guidance on how to get the most out of its features
Video tutorials: WriterZen offers a range of video tutorials that cover different aspects of using their SEO software. These tutorials are designed to be easy to follow and provide step-by-step guidance on how to use various features of the software
Knowledge base: https://writerzen.freshdesk.com/en/support/solutions
Webinars: WriterZen periodically hosts webinars on different topics related to SEO and Content Marketing. These webinars are designed to help businesses learn new skills and stay up-to-date with the latest trends and best practices
What's the difference between an individual subscription and a business package?
Both individual subscriptions and business packages provide access to the core features of WriterZen. But the business packages offer more advanced features and prioritized support options to help teams and agencies collaborate more effectively and achieve their SEO objectives more efficiently.
What is the customer support policy for business packages?
WriterZen offers dedicated customer support from an account manager who can provide guidance on how to use the software effectively to achieve business goals. The account manager can help businesses with onboarding, troubleshooting, and customization of the software to meet their specific needs.

WriterZen also provides a valuable service by offering regular performance review meetings to its clients on a monthly basis. During these meetings, the client's account manager will analyze and discuss the client's SEO performance metrics, including keyword rankings, traffic volume, and other relevant indicators.