Keywords are Useless Without Context. Here's how to Leverage Both
WriterZen
Content SEO Software Company
Nov 15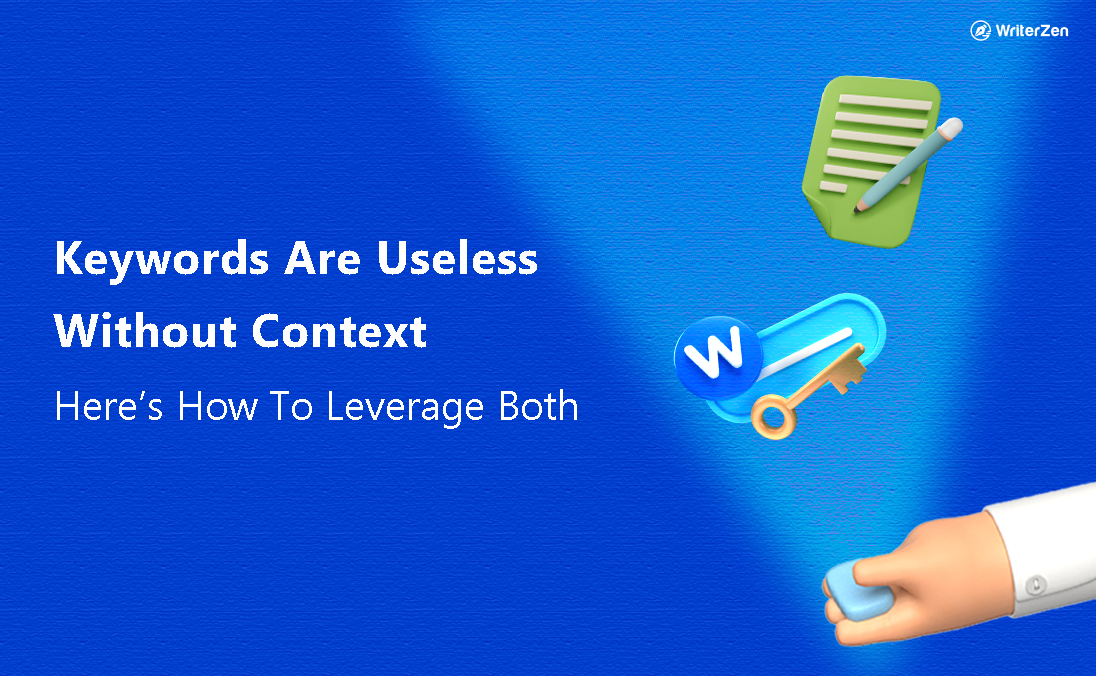 <p dir="ltr">Question. As a marketer in the world of content &amp; SEO, what&rsquo;s the first thing to do before writing an SEO blog post?</p> <p dir="ltr"><a href="../../../academy/how-to-do-keyword-research" target="_blank" rel="noopener">Keyword research</a>, we bet.</p> <p dir="ltr">It&rsquo;s SEO content 101, and many people on different platforms (Quora, Reddit, Google, etc.) share a similar opinion:</p> <p dir="ltr"><img src="../../../storage/photos/1/blog-3.15/opinions-about-keyword-research-on-social-platforms.webp" alt="Opinions about Keyword Research on Social Platforms" width="1010" height="1112"></p> <p dir="ltr">This advice is not wrong.&nbsp;</p> <p dir="ltr">Google ranks content partly because of this factor. But it becomes a problem when content marketers or strategists become obsessed with keywords.</p> <p dir="ltr">You see, keywords alone don&rsquo;t give the full picture or guidance needed for crafting relevant content.&nbsp;</p> <p dir="ltr">There has to be context.</p> <h2 dir="ltr"><strong>Why You Need Context for Every Keyword</strong></h2> <p dir="ltr">&ldquo;Content is king&rdquo; is a famous maxim coined by Bill Gates.</p> <p dir="ltr">Well, how about this?</p> <p dir="ltr">Content might be king, but context is queen.</p> <p dir="ltr">Every piece you publish must be <a href="../../../blog/keyword-relevance" target="_blank" rel="noopener">relevant </a>to your readers (and prospective customers). Context helps you do that. It requires you to focus on your audience&rsquo;s needs and understand their pain points.&nbsp;</p> <p dir="ltr">Hugh Taylor, Veteran Marketer and Author of B2B Technology Marketing put it best when he wrote:</p> <p dir="ltr"><img src="../../../storage/photos/1/blog-3.15/hugh-taylor-talks-about-theory-of-mind.webp" alt="Hugh Taylor Talks about Theory of Mind" width="1010" height="716"></p> <p dir="ltr">Contextual content does something magical:&nbsp;</p> <p dir="ltr">It takes you to the good old days, i.e., back to humans, when content was crafted to resonate with humans, not satisfy search engines.</p> <p dir="ltr">Here&rsquo;s an example to put things into perspective.</p> <p dir="ltr">Say you&rsquo;re the content manager of an organic skincare company. You want to create a blog post on natural skincare, so after research, you settle on the keyword &lsquo;natural skincare products&rsquo; because it has a decent search volume and is bottom of the funnel:</p> <p dir="ltr"><img src="../../../storage/photos/1/blog-3.15/natural-skincare-products-search-volume.webp" alt="Natural Skincare Products Search Volume" width="1010" height="555"></p> <p dir="ltr">Now, as we&rsquo;ve established, creating content based on the keyword alone would miss the &lsquo;why&rsquo; and &lsquo;what&rsquo; behind that keyword. To uncover these, you&rsquo;ll need to look deeper.&nbsp;</p> <p dir="ltr">A.k.a,&nbsp;<strong>uncovering the context.&nbsp;</strong></p> <p dir="ltr">Here are five questions that help you do that:&nbsp;</p> <ul> <li dir="ltr" aria-level="1"> <p dir="ltr" role="presentation">Why are my target readers searching for this query?</p> </li> <li dir="ltr" aria-level="1"> <p dir="ltr" role="presentation">What do they search alongside this?</p> </li> <li dir="ltr" aria-level="1"> <p dir="ltr" role="presentation">What questions do they ask?</p> </li> <li dir="ltr" aria-level="1"> <p dir="ltr" role="presentation">What will make them want to read my piece?</p> </li> <li dir="ltr" aria-level="1"> <p dir="ltr" role="presentation">What worries/excites/amuses them?</p> </li> </ul> <p dir="ltr"><br><img src="../../../storage/photos/1/blog-3.15/how-to-find-keyword-context.webp" alt="How to Find Keyword Context" width="1010" height="665"></p> <p dir="ltr">Now, let&rsquo;s look at ways to get this clarity.</p> <h2 dir="ltr"><strong>How to Get Context for Your Keyword</strong></h2> <p dir="ltr">A straightforward approach is talking to your customers.&nbsp;</p> <p dir="ltr">But why spend hours trying to get into your audience&rsquo;s head when there are a ton of in-depth insights on each keyword readily available in <a href="../../" target="_blank" rel="noopener">WriterZen</a>?</p> <p dir="ltr"><img src="../../../storage/photos/1/blog-3.15/writerzen-helps-finding-keyword-context.webp" alt="WriterZen Helps Finding Keyword Context" width="1010" height="908"></p> <p dir="ltr" style="text-align: center;"><a href="https://www.g2.com/products/writerzen/reviews/writerzen-review-6840159" target="_blank" rel="no follow noopener">Source</a></p> <p dir="ltr">Here&rsquo;s how WriterZen provides the context behind keywords.&nbsp;</p> <h3 dir="ltr"><strong>Insights Tab</strong></h3> <p dir="ltr">This is a tab found in WriterZen&rsquo;s <a href="../../../products/keyword-explorer" target="_blank" rel="noopener">Keyword Explorer tool</a>.</p> <p dir="ltr">How this tab helps you understand context is simple. It categorizes the search intent of the keyword into groups like What, Why, How, Is, Are, Can, Where, Does, Do, etc. And underneath these groups are questions searchers are asking with accompanying search volume:&nbsp;</p> <p dir="ltr"><strong id="docs-internal-guid-40fb4319-7fff-c5cd-a5dc-44bd91dc5d68"></strong><img style="font-family: -apple-system, BlinkMacSystemFont, 'Segoe UI', Roboto, Oxygen, Ubuntu, Cantarell, 'Open Sans', 'Helvetica Neue', sans-serif;" src="../../../storage/photos/1/blog-3.15/insights-tab-of-writerzen.webp" alt="Insights Tab of WriterZen" width="1010" height="849"></p> <p dir="ltr">Why is this so important?</p> <p dir="ltr">In his piece on Search Engine Journal, Manish Dudharejia, Founder of E2M Solutions, <a href="https://www.searchenginejournal.com/questions-keywords-how-should-you-optimize-your-content/322877/#close" target="_blank" rel="nofollow noopener">explains</a>:&nbsp;</p> <p dir="ltr"><img src="../../../storage/photos/1/blog-3.15/manish-dudharejia-opinion-about-the-finding-keyword-context-process.webp" alt="Manish Dudharejia's Opinion about the Finding Keyword Context Process" width="1010" height="716"></p> <p dir="ltr">Your content piece should answer the questions in your target audience&rsquo;s mind.</p> <p dir="ltr">As shown above, accessing these grouped keyword questions on WriterZen is easy. Just enter your target keyword e.g, organic skincare, scroll down and switch the tab to &lsquo;Insights.&rsquo;</p> <p dir="ltr">And there&rsquo;s more.&nbsp;</p> <p dir="ltr">Under each cluster of insights related to a keyword, you can select relevant queries and add them to a list for perusal later.</p> <h3 dir="ltr"><strong>Topical Ideas</strong></h3> <p dir="ltr">Another way to gain more insight is to look at the topical ideas for a keyword.</p> <p dir="ltr">These are topics or ideas that are popular among users and are similar to your primary keyword. Unlike the Insight tab above, they are not restricted to questions.</p> <p dir="ltr">With this data, you can learn more about the search pattern of your target audience. It exposes you to the different angles your keyword and content can be approached from.</p> <p dir="ltr">To get this data, switch to the <a href="../../../products/topic-discovery" target="_blank" rel="noopener">Topic Discovery tool</a> and enter your keyword<strong id="docs-internal-guid-7c659a74-7fff-292f-ebe1-3ac267c3c12a">:</strong></p> <p dir="ltr"><img src="../../../storage/photos/1/blog-3.15/finding-topical-ideas-in-topic-discovery.webp" alt="Finding Topical Ideas in Topic Discovery" width="1010" height="556"></p> <p dir="ltr">It generated 70 grouped topical ideas for &lsquo;search demand&rsquo;:</p> <p dir="ltr"><img src="../../../storage/photos/1/blog-3.15/how-topic-discovery-displays -topical-ideas.webp" alt="How Topic Discovery Displays Topical Ideas" width="1010" height="560"></p> <p dir="ltr">Filter the relevancy by &lsquo;closely&rsquo; or &lsquo;medium,&rsquo; and you&rsquo;ll get results more tightly related to your seed phrase. We received 37 (from 70) topics after using the &lsquo;closely&rsquo; filter:</p> <p dir="ltr"><img src="../../../storage/photos/1/blog-3.15/use-the-filter-to-get-more-relevant-results.webp" alt="Use the Filter to Get More Relevant Results" width="1010" height="606"></p> <p dir="ltr">You can also click the link on each idea to view the related content. This can give you more inspiration/context.</p> <p dir="ltr">Let&rsquo;s look at the third way to obtain more insights surrounding a keyword.</p> <h3 dir="ltr"><strong>Related Google Searches</strong></h3> <p dir="ltr">Related searches are not keywords per se, but queries.</p> <p dir="ltr">For clarity, a search query is what people are entering directly into the search engine, while a keyword is the terms/phrases for which an article is ranked. Knowing the queries related to your target keyword is crucial.&nbsp;</p> <p dir="ltr">They give a complete view of who your customers are, how they think, and what they are searching for.&nbsp;</p> <p dir="ltr">Tom Anthony, VP Product at SearchPilot corroborates:</p> <p dir="ltr"><img src="../../../storage/photos/1/blog-3.15/tom-anthony-opinions-about-queries-and-keywords.webp" alt="Tom Anthony's Opinions about Queries and Keywords" width="1010" height="716"></p> <p dir="ltr">Google provides Related Search results toward the bottom of the page result for every keyword:&nbsp;</p> <p dir="ltr"><img src="../../../storage/photos/1/blog-3.15/google-related-searches.webp" alt="Google's Related Searches" width="1010" height="931"></p> <p dir="ltr">But imagine your keyword has 30 topical ideas and you want to use Google to get this information. It means having to open 30 different google tabs.&nbsp;</p> <p dir="ltr">That&rsquo;s time-consuming and stressful.&nbsp;</p> <p dir="ltr">You can see them all at once in WriterZen. And this is one reason people love the tool. Hear it from Gaia, an SEO Specialist:</p> <p dir="ltr"><img src="../../../storage/photos/1/blog-3.15/writerzen-also search-for-section-helps-speed-up-the-process.webp" alt="WriterZen's Also Search For Section Helps Speed Up the Process" width="1010" height="595"></p> <p dir="ltr" style="text-align: center;"><a href="https://www.capterra.com/p/229851/WriterZen/reviews/3830828/" target="_blank" rel="nofollow noopener">Source</a></p> <p dir="ltr">To view these details,&nbsp; click on &lsquo;Show Ideas&rsquo;, and you&rsquo;ll see them at the bottom of the tab:</p> <p dir="ltr"><img src="../../../storage/photos/1/blog-3.15/how-to-find-related-searches-in-writerzen.gif" alt="How to Find Related Searches in WriterZen" width="1010" height="553"></p> <h3 dir="ltr"><strong>Google Suggest Insights&nbsp;</strong></h3> <p dir="ltr">Finally, we have &lsquo;Suggest Insights.&rsquo; This is another data provided by Google per keyword, but WriterZen takes it one step further.</p> <p dir="ltr">Apart from displaying the results via a birds-eye view to improve efficiency, it displays the questions, prepositions, or comparisons for every query:</p> <p dir="ltr"><img src="../../../storage/photos/1/blog-3.15/writerzen-takes-google-suggest-insights-one-step-further.webp" alt="Writerzen Takes Google Suggest Insights One Step Further" width="1010" height="718"></p> <p dir="ltr"><img src="../../../storage/photos/1/blog-3.15/use-writerzen-to-gain-more-context-on-keywords.webp" alt="Use WriterZen to Gain More Context on Keywords" width="1010" height="440">&nbsp;</p> <h2 dir="ltr"><strong>Align Content with Search Intent &amp; Keyword Context</strong></h2> <p dir="ltr">Often, keyword context and <a href="../../../blog/understanding-search-intent" target="_blank" rel="noopener">search/user intent</a> are used interchangeably, but they are not exactly the same.</p> <p dir="ltr">Sure, they have a lot of similarities in that they both:</p> <ul> <li dir="ltr" aria-level="1"> <p dir="ltr" role="presentation">Require the marketer to focus on the audience&nbsp;</p> </li> <li dir="ltr" aria-level="1"> <p dir="ltr" role="presentation">Shed more light on a keyword, and&nbsp;</p> </li> <li dir="ltr" aria-level="1"> <p dir="ltr" role="presentation">Help the marketer understand the nature of the searcher.</p> </li> </ul> <p dir="ltr">But there&rsquo;s one key difference between them.</p> <p dir="ltr">Search intent is the purpose of the search, and there are four types:</p> <ul> <li dir="ltr" aria-level="1"> <p dir="ltr" role="presentation">Informational Intent</p> </li> <li dir="ltr" aria-level="1"> <p dir="ltr" role="presentation">Navigational Intent</p> </li> <li dir="ltr" aria-level="1"> <p dir="ltr" role="presentation">Transactional Intent</p> </li> <li dir="ltr" aria-level="1"> <p dir="ltr" role="presentation">Commercial Intent</p> </li> </ul> <p dir="ltr"><img src="../../../storage/photos/1/blog-3.15/keyword-search-intent-types.webp" alt="Keyword Search Intent Types" width="1010" height="609"></p> <p dir="ltr">These intent types are only identifiers, whereas keyword context offers more detailed information by uncovering underlying questions.</p> <p dir="ltr">However, to create relevant content, you need these identifiers and deeper questions. So align your content with the search intent and context of the keyword.</p> <h2 dir="ltr">Keywords + Context = Problem Solving Content</h2> <p dir="ltr">Make no mistake.&nbsp;</p> <p dir="ltr">The advice so far is not to abandon keywords. They have their place. After all, without them, your content won&rsquo;t be found by your potential customers.</p> <p dir="ltr">The advice is not to be obsessed with them.</p> <p dir="ltr">They are not all there is to creating great and highly converting <a href="../../../academy/seo-content-strategy" target="_blank" rel="noopener">SEO content strategy</a>. To craft a targeted piece that solves the reader&rsquo;s problems, you must understand all there is about them. For that, you need context in addition to the primary keywords.</p> <p dir="ltr">In other words, go back to human.</p> <p dir="ltr">And WriterZen helps with that:</p> <p dir="ltr"><img src="../../../storage/photos/1/blog-3.15/reviews-on-topic-discovery-of-writerzen.webp" alt="Reviews on Topic Discovery of WriterZen" width="1010" height="856"></p> <p dir="ltr" style="text-align: center;"><a href="https://www.g2.com/products/writerzen/reviews/writerzen-review-6843430#survey-response-6843430" target="_blank" rel="nofollow noopener">Source</a></p> <p>&nbsp;</p>
WriterZen
Content SEO Software Company
Tags:
SEO
Content Marketing
Keyword
Maybe
you're interested in...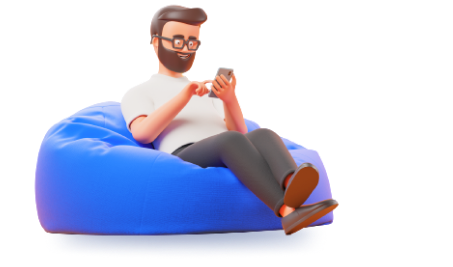 How exactly do I use WriterZen to optimise workflow?" you might ask. You will find the answer in this article.
Jul 26
Daniel Nguyen
Allintitle checking is one of key main metrics in your SEO strategy. Here is full explanation for all the question related to Allintitle.
Sep 24
Ha Tuan Khang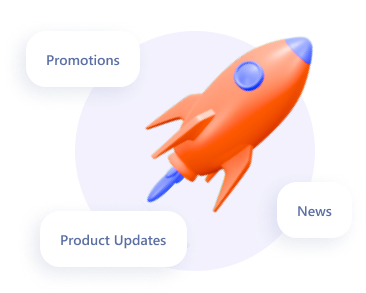 Get the latest content delivered straight to your inbox!
Subscribe to get our best content in your inbox. One post at a time. No spam, ever!