What Are Keyword Attributes and How to Evaluate Them
WriterZen
Content SEO Software Company
Jul 13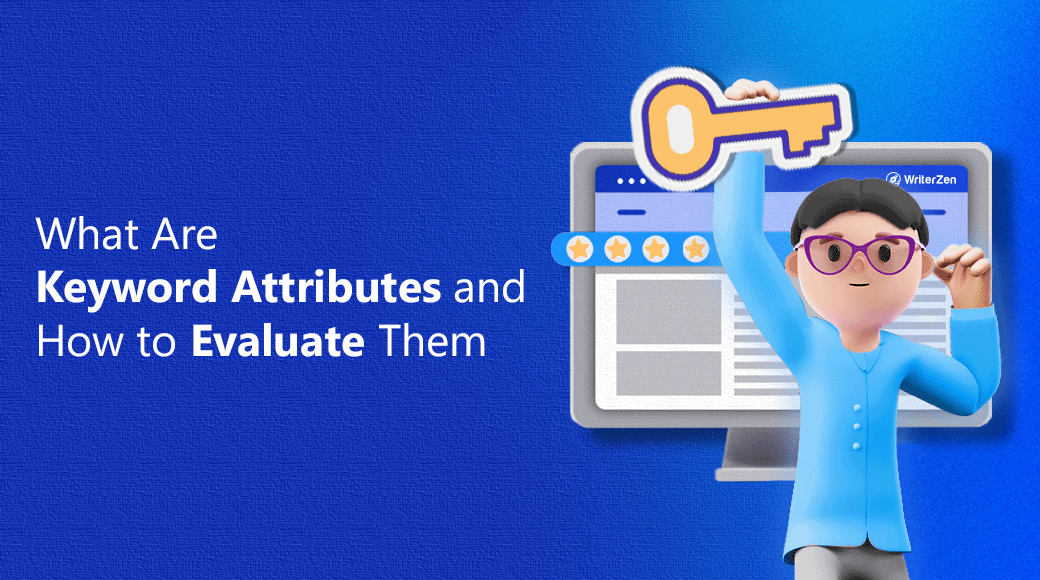 <p dir="ltr">The internet is an open book for the world to search for answers. The mechanism of typing in a search query in the search engine to find a solution is a rewarding experience for users. However, this mechanism stores data that helps marketers evolve learn and study the behavior of consumers.&nbsp;</p> <p dir="ltr">The high-demand keywords relevant to your business may depend on several factors. However, it is seen that the key phrases or the keywords have a pattern and bear certain characteristics. In this article, you will learn the main objectives of understanding how the data collected by the search engines help businesses distinguish based on keyword attributes. You will also learn how to evaluate these key attributes that make or break an SEO campaign.&nbsp;</p> <p dir="ltr">Keyword attributes help you judge the quality and standard of your content in terms of SERP. Evaluating your keywords based on certain keyword attributes or factors enables you to determine which ones are most effective for your business. Search volume, relevance, page-specific keywords, ad hoc value, etc., are few among the many features that affect the standards of keywords. This article will also familiarize you with the essential part of understanding what your website, the search engine, and your potential clients need right now.&nbsp;</p> <h2 dir="ltr">Keyword Attributes: Understanding the Trident in SEO&nbsp;</h2> <p dir="ltr">The huge data inventory opens up realms and options for businesses to understand their scope in various niches. But before diving into something, a business needs to learn the factors that affect their choice of keywords. Keyword attributes deeply affect your SEO strategy and help you meet your targets. They depend on three factors- Relevance, Search Volume, and Competition.&nbsp;</p> <p dir="ltr">The process of ranking on the SERP organically takes these three elements to excel. Other than a strong business motto, these three attributes help you understand the insightful data provided by your audience through the search engines. Learn to channel and manage your content flow by starting with the basics of keyword analysis: understanding keyword attributes.&nbsp;&nbsp;</p> <p dir="ltr"><img src="../../storage/photos/1/Blog 5.5/keyword_attributes_1-min.png" alt="Keyword attributes" width="1010" height="900"></p> <h2 dir="ltr">Relevance</h2> <p dir="ltr">The term keyword relevance or popularity is associated with the importance of a particular keyword, phrase, or search phrase to a business&rsquo;s website. On the other hand, relevance is related to how the search engine decides to rank your website based on users' search intent, and it makes judgments based on what your website content features through the titles, keywords, and other aspects.&nbsp;</p> <p dir="ltr">Keyword relevancy is a qualitative aspect of SEO. Your website content should be relatable to market your business effectively. However, the noble intention of being relatable does not help you reach your target audience. It needs a lot of effort and skills to use SEO to be relevant. Getting inside the minds of your audience is the first step to understanding what they need. But how do you do that? The vast sea of data and information is full of insights to judge what sells and sails through as relevant.&nbsp;</p> <p dir="ltr">To help your potential buyers relate to your products and services, you must learn to attract them with the right keywords for relevance. Search engines index and link data of websites based on the rising number of search queries. Once the data on your website is relevant to the search query, your website becomes relevant, increasing your chances of getting a high ranking on the SERP. Similarly, you get to study a list of semantically similar keywords based on the search queries related to your industry or business. Keyword relevance plays a major role in indexing and ranking your website by the algorithms of a search engine for certain search intent-based queries. Relevancy is all about user behavior online. Their journey from typing a search phrase on the search engine to clicking on a page that gives them what they need is studied by search engines. They explore how the results bring some value and satisfaction to the users.&nbsp;</p> <h3 dir="ltr" role="presentation">Importance of Keyword Relevance&nbsp;</h3> <p dir="ltr">With the rise in more humanized and intelligent algorithms that meet users&rsquo; expectations, it is seen that the search engines pick results based on semantically related content with relevance to a search query. They boost your website&rsquo;s ranking by offering relevant content supported by relevant keywords all across the content structure. Search intent and keyword relevance go hand in hand concerning SEO. Therefore, it also helps you know your customers better.</p> <h3 dir="ltr" role="presentation">How Search Engines Judge Relevancy&nbsp;</h3> <p dir="ltr">Digital marketing is based on relevance and quality content creation, and topical Authority is an essential benchmark to judge relevancy. When a search engine algorithm crawls your website, it analyzes the relevant keywords and topics. Your website ranks organically when it has an all-encompassing yet detailed take on a certain topic. Topic clusters work as a great element in magnifying your website relevance and help search engines to index your website to the relevant key phrases. It enhances your authoritativeness and organic visibility and generates high-quality keywords with related topics.&nbsp;</p> <h2 dir="ltr">Search Volume&nbsp;</h2> <p dir="ltr">Ranking for high search volume is not an easy feat. Keyword search volume is a quantitative factor calculated based on the monthly search volume data. Keyword search volume is the number of searches for a specific keyword. It is a significant consideration in keyword research and evaluation, whether you're seeking the most popular terms or trying to better your SEO efforts. Long-term patterns, seasonality, and current events impact your website traffic. Analyze the search traffic to optimize your keyword strategy and choose the proper keywords. Search volume helps marketers evaluate and decide the competitiveness of all keywords in a grouping.&nbsp;</p> <h3 dir="ltr">Importance of Keyword Search Volume&nbsp;</h3> <p dir="ltr">Search volume helps you discover a lot of information in terms of SEO, like the competitive difficulty of a keyword, the traffic, the potential of a keyword to bring traffic to your website, seasonal or topical keywords, etc. There are various tools and planners that dig the resource you need to include certain high-volume keywords.&nbsp;</p> <p dir="ltr">It is vital to remember that &lsquo;healthy&rsquo; may be defined in many ways, although search volume is an essential indicator for keyword research. For example, if you sell heavy jackets in the fall and winter, you may wish to concentrate on keywords related to heavy jackets in the autumn. You will be losing your time and money if you focus on the most popular keywords at the wrong time.</p> <p dir="ltr">However, ignoring keywords with low volume is the wrong move. Studying keyword data based on search volume gives us the highest to lowest search volume keywords. Sometimes the low-volume keywords turn out to be winning keywords due to their relevance to your brand and low competition in your industry. There are no ultimate rules that direct you to use only high-volume keywords, and the significance of high-volume keywords is to reach a larger mass. In comparison, low-volume keywords with low competition and high relevance bring fruitful results to your business website and increase ROI. It works especially well for brands in niche industries that want loyal customers.</p> <h3 dir="ltr">Relationship Between Search Volume and Competitiveness</h3> <p dir="ltr">The target keywords with high volume have the potential to reach a higher number of users but can have several competitors. On the other hand, Keywords with low competition have low volume but are highly relevant to bring your loyal customers. However, every individual has different needs and will establish domain authority based on where they stand. For example, a brand with a new website will attain the best results when using high search volume keywords. It helps you establish domain authority by being relevant and informative. However, a low search volume keyword with low competition works for a brand that wants to help a niche crowd among users based on preferences. An ideal option is to find high search volume keywords with low competition. Factors like seasonality and topical clusters also tremendously affect the potential of keyword search volume. Depending on the season, certain types of keywords get featured. Thus, expecting high click-through rates for every high-volume keyword is not advisable.&nbsp;</p> <p dir="ltr"><img src="../../storage/photos/1/Blog 5.5/keyword_attributes_2.png" alt="Search volume and competition scale" width="1010" height="900"></p> <h2 dir="ltr">Keyword Competition</h2> <p dir="ltr">Keyword Competition in SEO holds a lot of insight for you and your rivals online. As a digital marketer, competitive keyword analysis helps you identify the weaknesses and strengths of your competitors in your niche on the SERP. The more unique and authentic you look, the more acceptable and trusted you get by a new audience. The major target is to look for known and unknown competitors whose rankings based on the keywords help them be in the high ranks of SERP. When you look for the keywords that rank, it shoots up many insights and approaches your competitors to take. That alone is a bank full of amazing ideas to work on and try.&nbsp;</p> <p dir="ltr">The profitability of an industry is influenced by the strength of each of the competing forces. Convincing your visitors into dedicated patrons and customers makes you rank for the right reasons and get a higher ROI. It is possible only when you know what keywords to rank higher on the SERP. For an industry to be &lsquo;perfectly competitive,&rsquo; there must be no restrictions on newcomers' ability to enter it. The long-term profitability of this type of business is typically lower than that of other industries.</p> <p dir="ltr">You can determine how competitive you are by comparing your company's strengths and weaknesses to your competitors. You must conduct website content audits and analyze the performance of your website based on the target keywords. Industry and its customers should understand the significance of each attribute. It can help you determine the repetitive, duplicated content and has low-performing keywords. You will get the insights to reframe and adjust the content by merging similar pages and improving your website's internal linking.&nbsp;</p> <h3 dir="ltr">Why is Keyword Difficulty Essential as a Keyword Attribute</h3> <p dir="ltr">Keyword difficulty helps you measure the strategy and resources for your SEO campaign to rank in the SERP. If not unique or patented, products and services have a high number of competitors. Ranking organically gets difficult without a streamlined method of keyword research. A competitor keyword analysis is an essential part of an SEO campaign that explains many things to you. It helps you learn in-depth about the strategies of your competitor's websites. You understand how your competitors use keywords to increase click-through rates and rankings. The competitor analysis helps you improve your website content to outperform high-ranking competitors on the SERP. There are several factors that affect keyword difficulty, like competitors, quality of website content, the search intent of users, backlinks, and domain authority.</p> <p dir="ltr">Unearthing a series of new insights and objectives based on simple competitor analysis unveils several opportunities to up your game and meet your targets correctly. It exposes a list of new keywords and topics related to your search query.&nbsp;</p> <h2 dir="ltr">The Methods of Evaluating Keywords Based on Attributes</h2> <p dir="ltr">Choosing the right keywords for your business online to rank organically gets easier with a vast knowledge of the keyword attributes. Organizing your keywords into categories depending on their potential and competition might help you get more search traffic. Assess your resources to see whether you can implement these keywords. When selecting high-opportunity keywords, companies with their overarching objectives should consider the amount of time and resources they need to attain them. These keywords should also support your company goals and bring instant results. Here are the methods of evaluating keywords based on each attribute:</p> <h3 dir="ltr">Evaluating the Keywords based on Keyword Relevance</h3> <p dir="ltr">Judge what your customers or potential buyers need. Instead of mechanically studying data, use your gut instinct to first evaluate by stepping into their shoes. Try to fulfill the gap by understanding the search intent behind every relevant keyword. Use a keyword tool to analyze several relevance-based keywords. You get access to semantically related keywords and topics on the internet based on their ranking and demand. Suppose you have access to a list of semantic keywords that you have to organize into smaller keyword groupings. Keyword tools offer insights and suggest key phrases closest to your focus keyword.</p> <p dir="ltr">These tools allow you to find relevant topics in demand but don&rsquo;t have relevant content. Some websites use keywords but don&rsquo;t have relevant content. This phenomenon is not acceptable, and a search engine can punish your website for not being relevant or useful. Thus, do not mindlessly feed your website content with relevant keywords and not put any useful information to help users. Rather include high-quality and relevant content to boost KPIs like click-through rates.&nbsp;</p> <p dir="ltr">The Google search console is another ideal zone to find related keywords and topics. Google suggests these related topics based on the user behavior, that is, how they click on pages with a similar flow of inquiry on the Google search engine. Therefore, to evaluate the relevance of keywords, use a tool and the Google search console to make your decisions.&nbsp;</p> <h3 dir="ltr">Evaluating Keywords Based on Search Volume</h3> <p dir="ltr">Search volume is an essential metric in keyword research and content ideation. An SEO expert works within the limitations of search volume metrics that affect the overall performance of keywords. They keep learning through trial and error to finally craft this list of suggestions to follow during the keyword research phase:</p> <ul> <li dir="ltr" aria-level="1"> <p dir="ltr" role="presentation">Do not blindly choose a keyword-based on high volume. Keyword volume is a fickle quantity that changes based on season, topic, relevance, and other factors. However, considering the other factors helps you make a stronger SEO campaign for a better ranking on SERP.&nbsp;</p> </li> <li dir="ltr" aria-level="1"> <p dir="ltr" role="presentation">Study how the keyword with a certain value adds relevance to your business website. Relevance is essential to help search engine crawlers to judge your website and index it as a website worthy of being featured on the SERP.</p> </li> <li dir="ltr" aria-level="1"> <p dir="ltr" role="presentation">Study if it is as powerful as the competitors or can these keywords overrank the competitors in the same industry. Fighting with the competitors in your industry to get higher rankings is possible if you study user behavior based on high-ranking websites.&nbsp;</p> </li> <li dir="ltr" aria-level="1"> <p dir="ltr" role="presentation">Check if the keyword has the potential to gain profit by converting the general audience into potential customers. The converting powers of content depend upon how the long-tail keywords direct the user&rsquo;s interest towards making a purchase. The greater the click-through rate, the greater the ROI.&nbsp;</p> </li> <li dir="ltr" aria-level="1"> <p dir="ltr" role="presentation">Check low-volume keywords with high domain authority and low competition to improve analytics. Domain authority makes your website a trustworthy and reliable zone to get exclusive services and products.&nbsp;</p> </li> <li dir="ltr" aria-level="1"> <p dir="ltr" role="presentation">Use tools to determine the quality and search volume of the keywords and how relevant they are to your industry.&nbsp;</p> </li> <li dir="ltr" aria-level="1"> <p dir="ltr" role="presentation">Check the season a keyword during which particular keywords get high popularity. To stay relevant, look out for evergreen keywords and seasonal keywords to bring a balance between the two types of keywords and when to use them ideally.</p> </li> </ul> <h3 dir="ltr">Evaluating Keywords Based on Competition</h3> <p dir="ltr">Analyzing keyword competition is based on the data provided by keyword research and analysis tools. Or, you can analyze competition based on the search query results. The first page of your SERP serves as an assortment of competitors to look out for and compete. Your industry needs to scale up with the help of learning competitor behavior. It depends on the other two keyword attributes to evaluate the keywords appropriately.&nbsp;</p> <p dir="ltr">To conduct competition research and analysis, you have to start with access to tools that have a keyword difficulty or competitiveness metric. The next step is to check the pay-per-click data to understand the level of competition and profitability. Fuse these methods to get data directly from the google search engine to find similar search results, allintitle, etc. Lastly, dive deeper into how your competitors are behaving in terms of keyword selection, topics, SEO tactics, and many more.&nbsp;</p> <p dir="ltr">The process of evaluating competitor keywords is as follows-</p> <ul> <li dir="ltr" aria-level="1"> <p dir="ltr" role="presentation">Publish content related to your industry, products, or services on your website. Check how your website is performing in the SERPs.&nbsp;</p> </li> <li dir="ltr" aria-level="1"> <p dir="ltr" role="presentation">If your website is not showing up on the SERPs, it is time to use long-tail alternative keywords for the keyword used. Check if there are other variations of the same keyword that cater to less competitive industries and high-profit niches.&nbsp;</p> </li> <li dir="ltr" aria-level="1"> <p dir="ltr" role="presentation">Do not hyperfocus on competitiveness alone. The two other factors- relevance and search volume, have a major role in ranking high on the SERPs.&nbsp;</p> </li> </ul> <p dir="ltr">Thus, these keyword attributes are related and interdependent. It is impossible to decipher which keywords work best for your website unless you study the keyword attributes and how they affect your ranking on the SERP.&nbsp;</p>
WriterZen
Content SEO Software Company
Tags:
Keyword Attributes
SEO Marketing
Content Marketing
Maybe
you're interested in...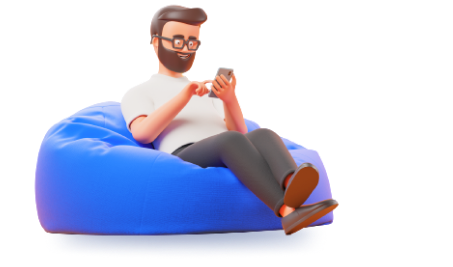 Learn how WriterZen's AI content writing feature is purpose-built, not to replace you, but helps you craft higher-ranking content faster.
May 09
WriterZen
Are you a content manager struggling to determine keyword competition? Here's how to solve that problem by doing allintitle keyword research
May 23
WriterZen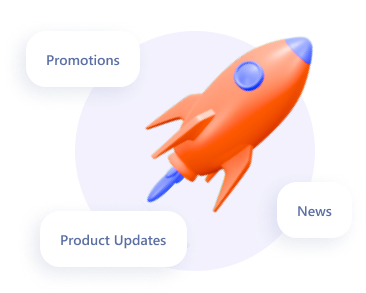 Get the latest content delivered straight to your inbox!
Subscribe to get our best content in your inbox. One post at a time. No spam, ever!